Are you ready for the experience of a lifetime?
An annual event in the western United States at Black Rock City – a temporary city erected in the Black Rock Desert of northwest Nevada, approximately 100 miles (160 km) north-northeast of Reno. The late summer event is described as an experiment in community and art, influenced by ten main principles: radical inclusion, radical self-reliance, radical self-expression, communal effort, civic responsibility, gifting, decommodification, participation, immediacy and leave no trace. The event takes its name from its culmination, the symbolic ritual burning of a large wooden effigy ("The Man") that traditionally occurs on the Saturday evening of the event.
At Burning Man, the community explores various forms of artistic self-expression, which are created to be enjoyed by all participants. "Burning Man is about 'why not' overwhelming 'why'," one "Burner" said. Participation is a key precept for the community – selfless giving of one's unique talents for the enjoyment of all is encouraged and actively reinforced. Some of these generous outpourings of creativity include experimental and interactive sculptures, buildings, performances and art cars, among other media. These contributions are inspired by the yearly theme, which is chosen by the organisers. The Burning Man Project endorses several smaller regional events, inspired by the Burning Man principles both in the United States and internationally.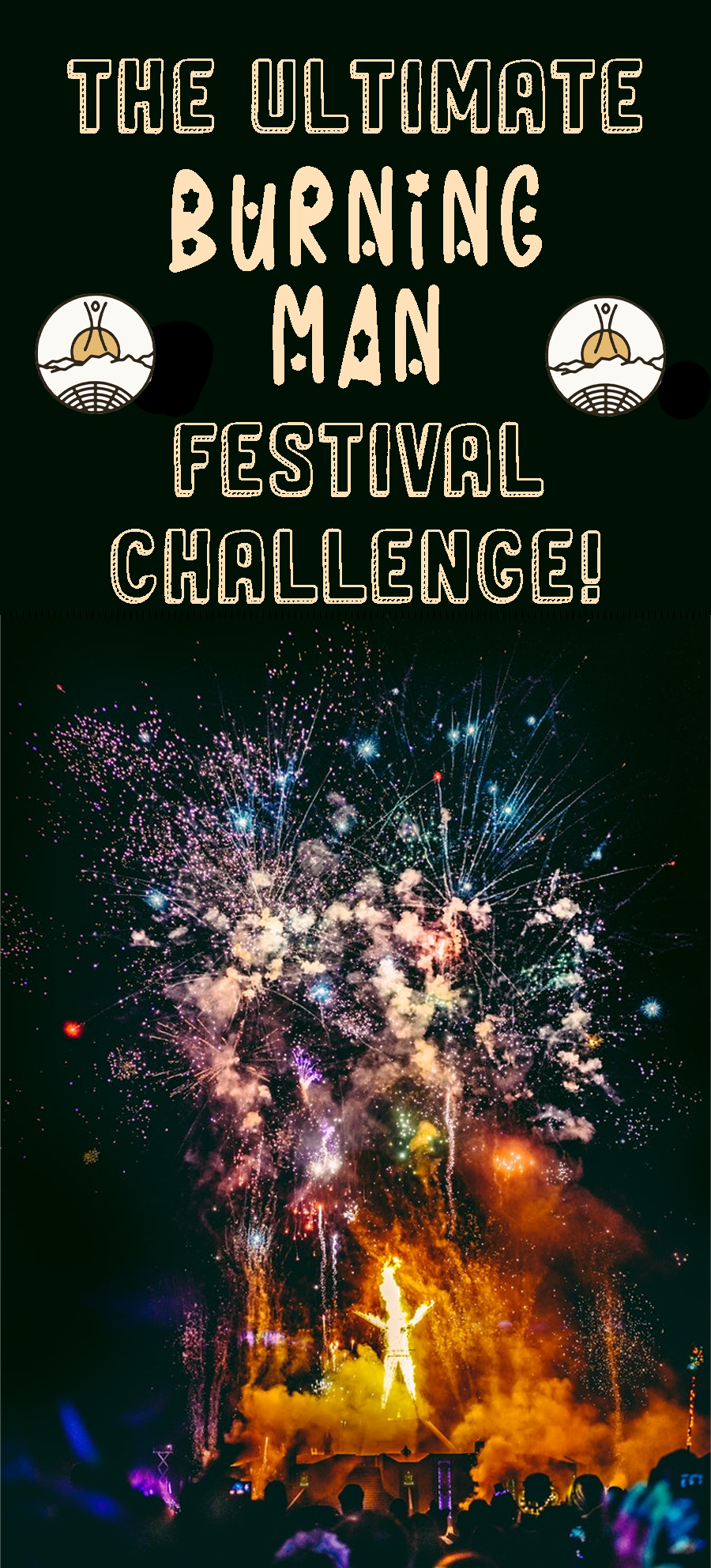 The Challenge
To complete the challenge and fully immerse yourself in this amazing festival, you need to complete the following:
Be in Black Rock City for Burning Man Festival.
Gift.
Participate.
Upload your best Burning Man outfit.
Upload your best photo of the Man Burning!
Leave no trace of your brief existence in BRC!
While completing the challenge tag @travelmedals on Instagram, Facebook or Twitter on each picture. Burning Man is a spectacular atmosphere therefore it's a great opportunity to share photos, the experience you have and the people you meet!
After you complete the challenge you can purchase the Burning Man themed travel medal!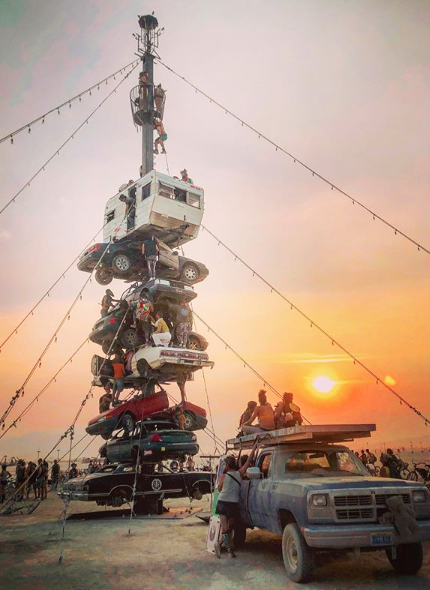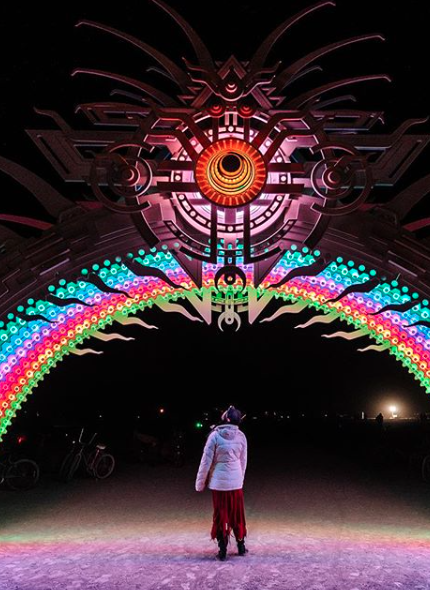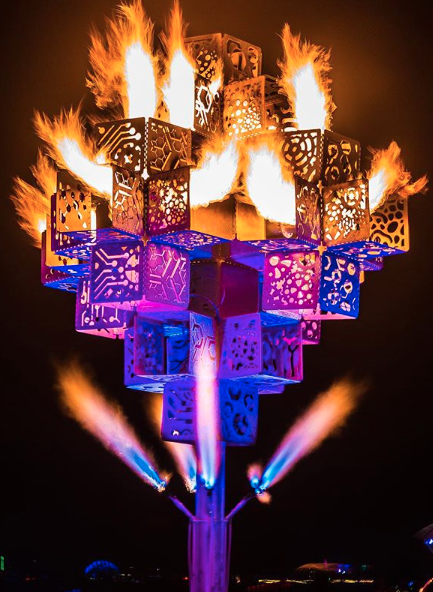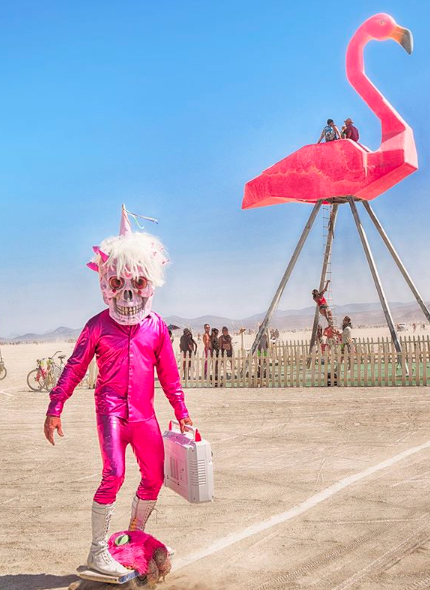 Additional Information
The first stop for all required resources is the Burning Man website. It contains everything you need to know on the event, the culture and the network of Burning Man. The culture section contains the 10 Principles that everyone should commit to memory including radical inclusion, gifting and leaving no trace. For the newly interested, a quick article on everything you've been wanting to know about Burning Man can be found on Business Insider.
For some Burning Man related literature ready for any book shelf or coffee table. Playa Dust: Collected Stories from Burning Man by Samantha Krukowski seeks to answer questions about the evolution, meaning and value of Burning Man as an experiment in community, self-sufficiency and anti-capitalism. It is a compilation of essays by authors who are part of the universe of Burning Man or who envisage the many ideas and landscapes on its periphery.
Art of Burning Man by photographer NK Guy documents 16 years of the festival. With it some of the most remarkable site-specific outdoor art ever made: a mechanized fire-breathing octopus, a towering wooden temple 15 meters tall, and the eponymous Man himself-a skeletal sculpture set ablaze at the event's conclusion. These dazzling images record the participatory, collective, intrinsically ephemeral installations and happenings in the desert.
Jennifer Raiser's Burning Man: Art on Fire: now revised and updated is an authorized collection of some of the most stunning examples of Burning Man art, including Art to Ride, Collaborative Art, and of course, Art to Burn. Get lost in a rich gallery of images showcasing the best examples of playa art with over 200 photos.Experience the amazing sculptures, art, stories, and interviews from the world's greatest gathering of artists.
4 minutes inside the Madness of Burning Man
For some highlights from the 2018 festival, watch Lorraine's short video which details the art, people and vibe of Burning Man. If this doesn't inspire you to want to attend then nothing will. Will Indian Summer by Jai Wolf as a beautiful backing track, this is a 4 minute watch you won't regret!
Who has Burning Man on their Bucket List? Has anyone been and have any tips for others yet to tick this off their list?