Norway UNESCO World Heritage Sites Challenge!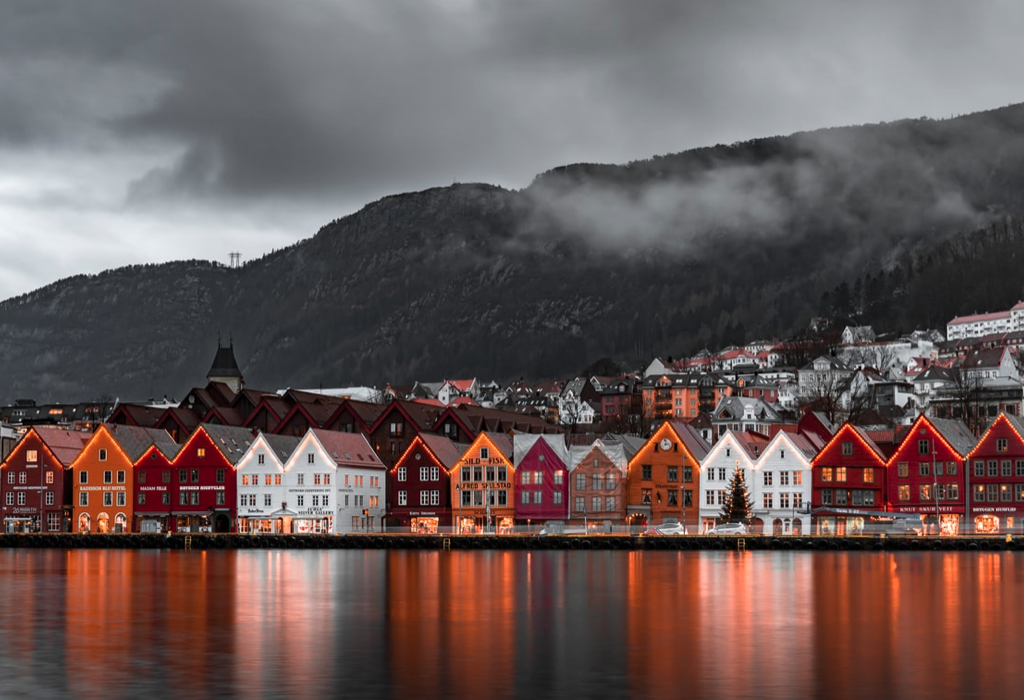 www.instagram.com/michaelfousert
A Cultural Challenge across all of Norway!
The United Nations Educational, Scientific and Cultural Organization (UNESCO) World Heritage Sites are places of importance to cultural or natural heritage as described in the UNESCO World Heritage Convention, established in 1972. The Kingdom of Norway accepted the convention on 12 May 1977, making its historical sites eligible for inclusion on the list. As of 2017, there are eight World Heritage Sites in Norway, including seven cultural sites and one natural site.
Norway's first two sites, Urnes Stave Church and Bryggen, were inscribed on the list at the 3rd session of the World Heritage Committee, held in Cairo and Luxor, Egypt in 1979. The latest inscription, Rjukan–Notodden Industrial Heritage Site, was added to the list in 2015. In addition to its World Heritage Sites, Norway also maintains five properties on its tentative list.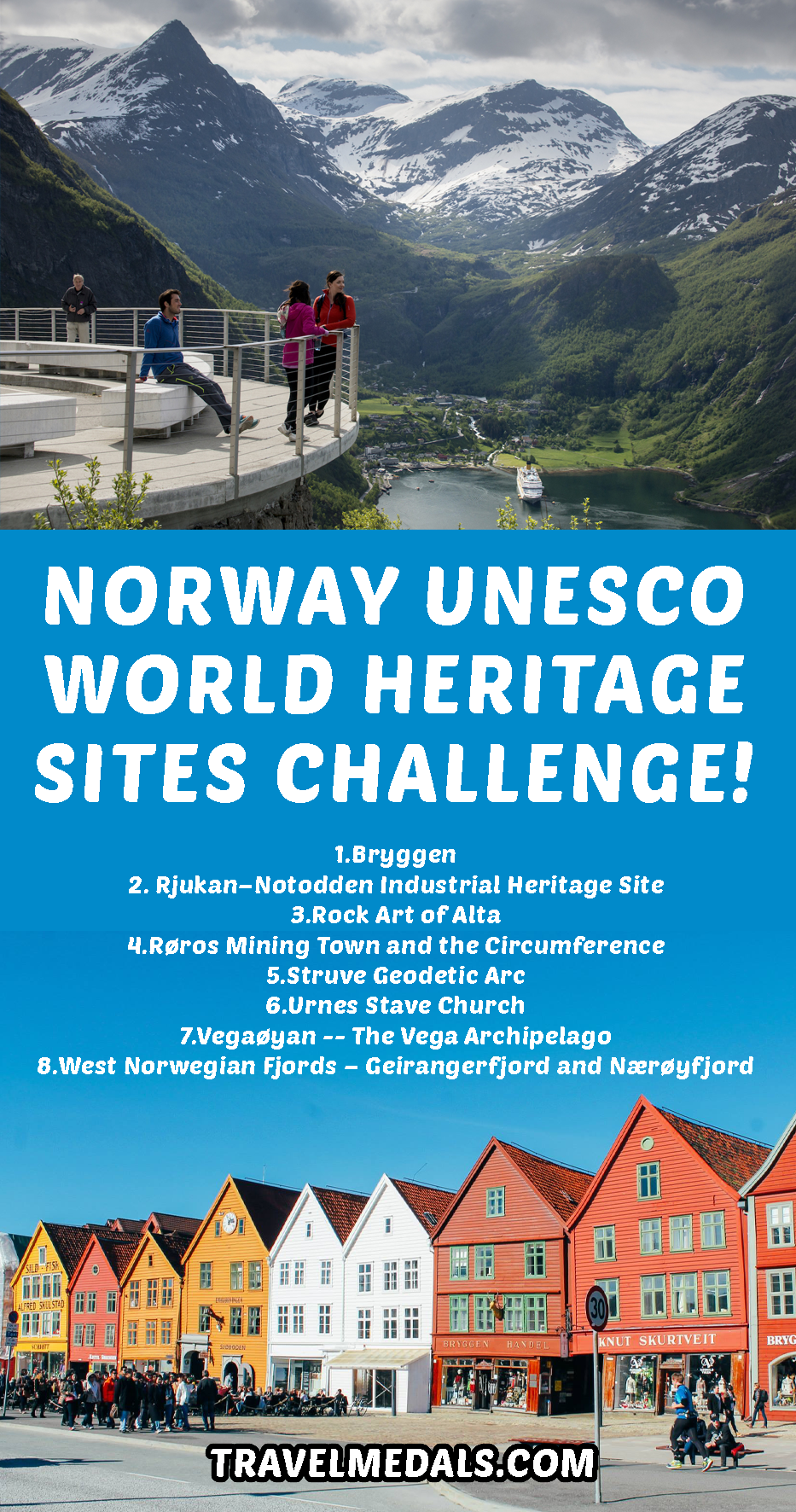 The Challenge
To complete this cultural travel challenge you must have visited all 8 of Norway's World Heritage Sites below:
Bryggen

Rjukan–Notodden Industrial Heritage Site

Rock Art of Alta

Røros Mining Town and the Circumference

Struve Geodetic Arc

Urnes Stave Church

Vegaøyan — The Vega Archipelago

West Norwegian Fjords – Geirangerfjord and Nærøyfjord
Tag @travelmedals on Instagram or Facebook on each site visit.
After completing the challenge you can reward yourself with a Norway UNESCO themed Travel Medal! Good luck!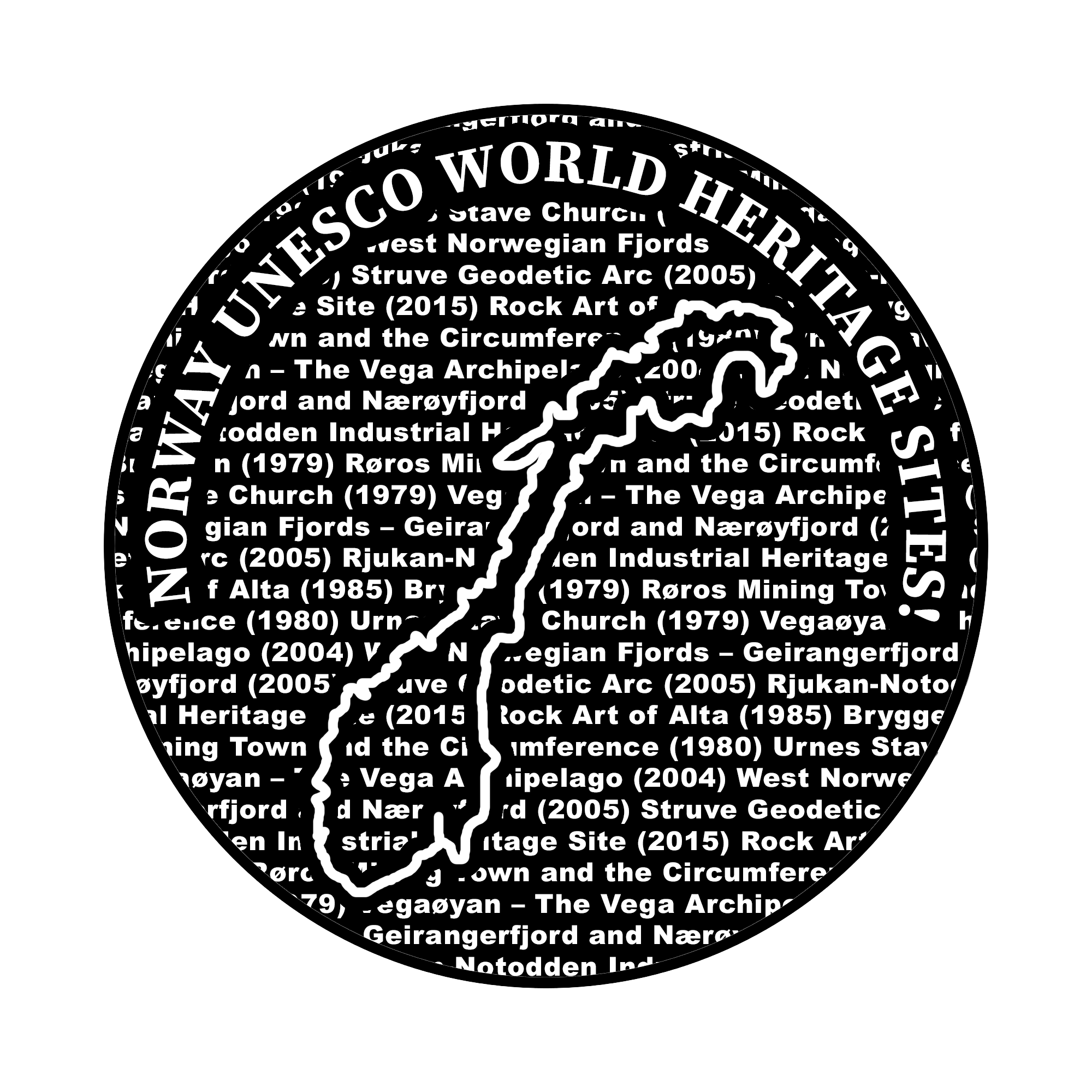 This is the initial design for the medal. If you're getting close to your goal of visiting all 8 sites and would like this medal, please get in touch through our Facebook or Instagram pages!
Additional Information
The wikipedia site for all of Norway's World Heritage Sites is a good first place to visit. From ancient petroglyphs to mighty fjord landscapes and early industrial sites the Visit Norway site covers all eight in more detail and is worth visiting for anyone considering taking on this challenge. Finally the official UNESCO World Heritage site has even more information available on Norway's selected Cultural and Natural sites. 
Bryggen by World Heritage Journey
For some inspiration from those who have already completed this challenge visit the You Tube channel of World Heritage Journey. Joel and Shandos are a travel blogging couple from Sydney, Australia. Together, they are attempting to visit all 1121 UNESCO World Heritage Sites! For the full video of them completing this challenge, visit their Norway Playlist. To follow their amazing effort to visit every site you can keep up to date on their site World Heritage Journey or their Instagram. 
Have you visited any of Norway's UNESCO World Heritage sites?