Dingle Way Challenge In Ireland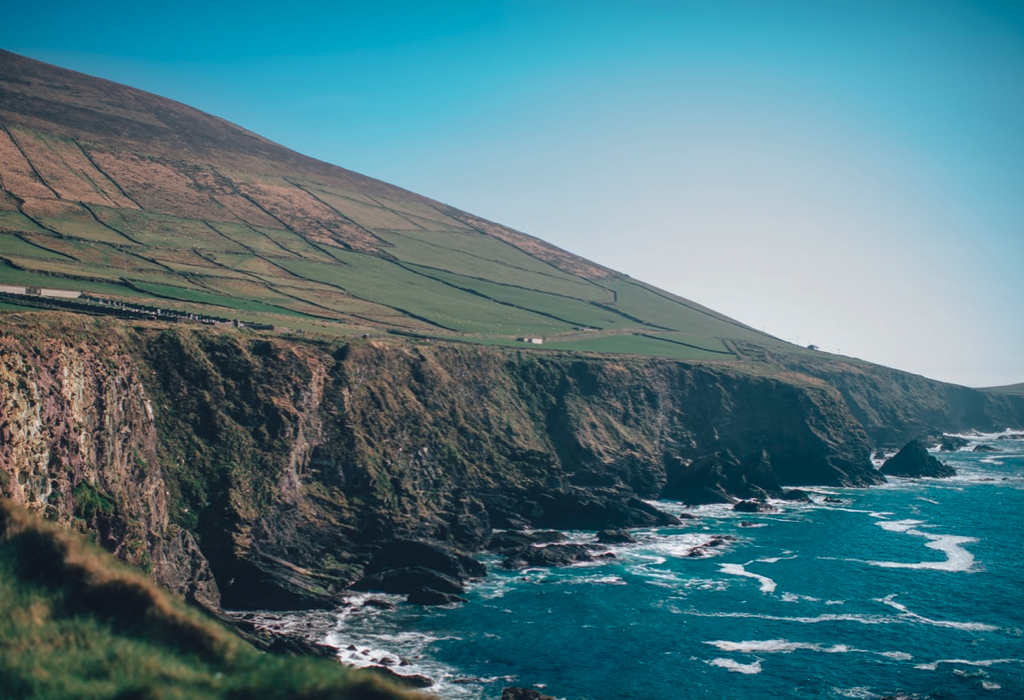 Will you challenge yourself to walk over 100 miles around the beautiful Dingle Peninsula?
A beautifully scenic long-distance trail around the Dingle Peninsula in County Kerry, Ireland. It is a 179-kilometre (111-mile) long circular route that begins and ends in Tralee and is typically completed in eight days. It is designated as a National Waymarked Trail by the National Trails Office of the Irish Sports Council.
The Dingle Way follows country lanes, quiet roads and cliff-top paths, punctuated by long stretches of glorious beach walking. It offers spectacular seascapes and mountain views. The peninsula is rich in wildlife, archaeology and charming Irish pubs.
You can join the trail at any number of points along its length as it hugs the coast along the Wild Atlantic Way. There are also many short loop walks and many mountain hikes and trails off the main Dingle Way offering excellent walking alternatives to cater for all interests.
The Dingle Way has been broken into 8 sections with each one feasible to do in a day. Of course you can break it down further yourself to also incorporate some of the amazing looped walks on the peninsula along with many of the amazing tourist experiences available.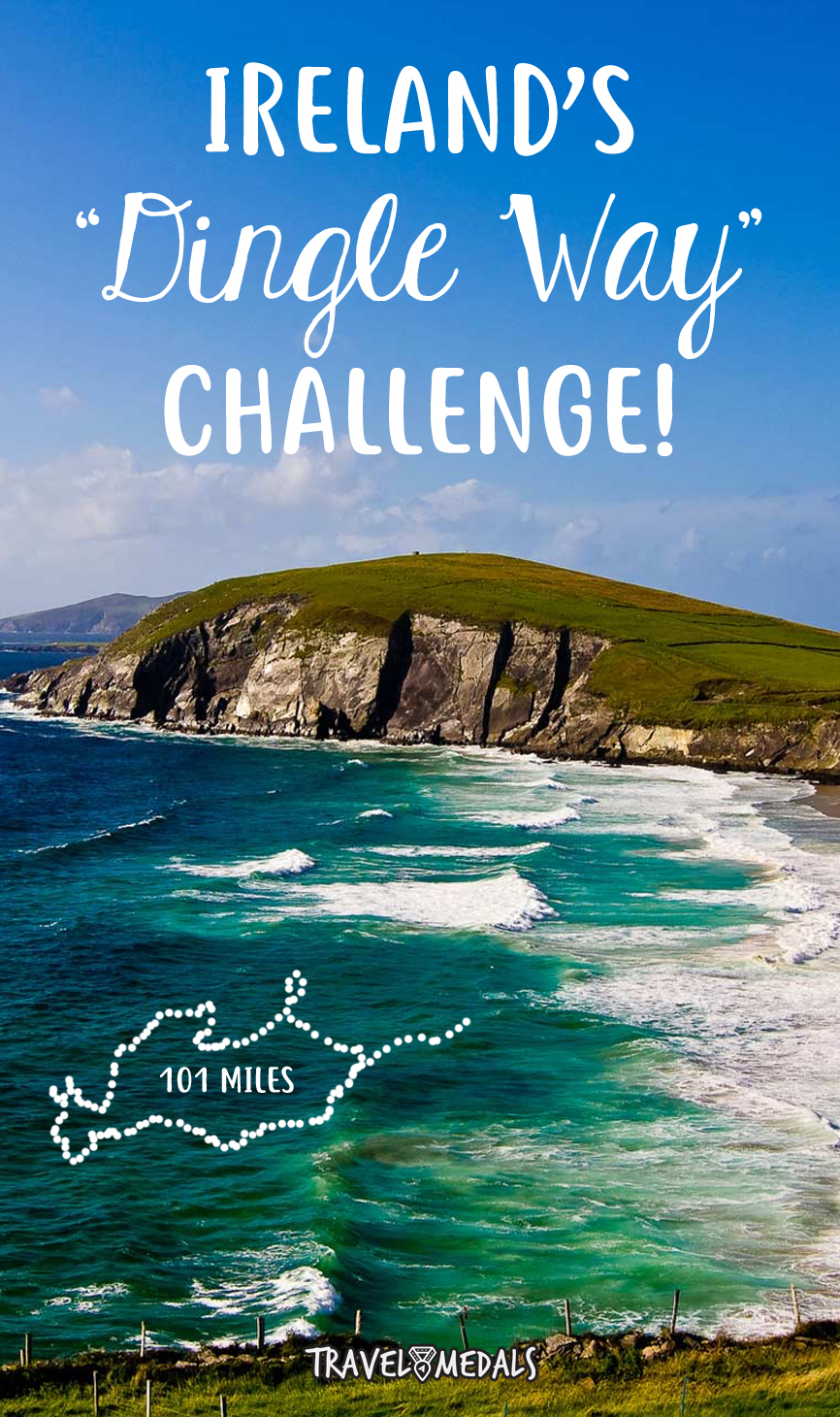 The Challenge
For this travel challenge you have to trek the full route. To complete the challenge you must:
Complete the full 111 mile loop.
Take a photo in Tralee before and after the trek.
Take a photo in Dingle.
Take a photo with a standing stone.
Call into the South Pole Inn, Annascaul.
Upload your favourite photos, videos and stories from the trek.
If you want you can also share your health stats for the days, your overall time in days, your experience and adventures along the way as well as tips and information to help others complete this travel challenge.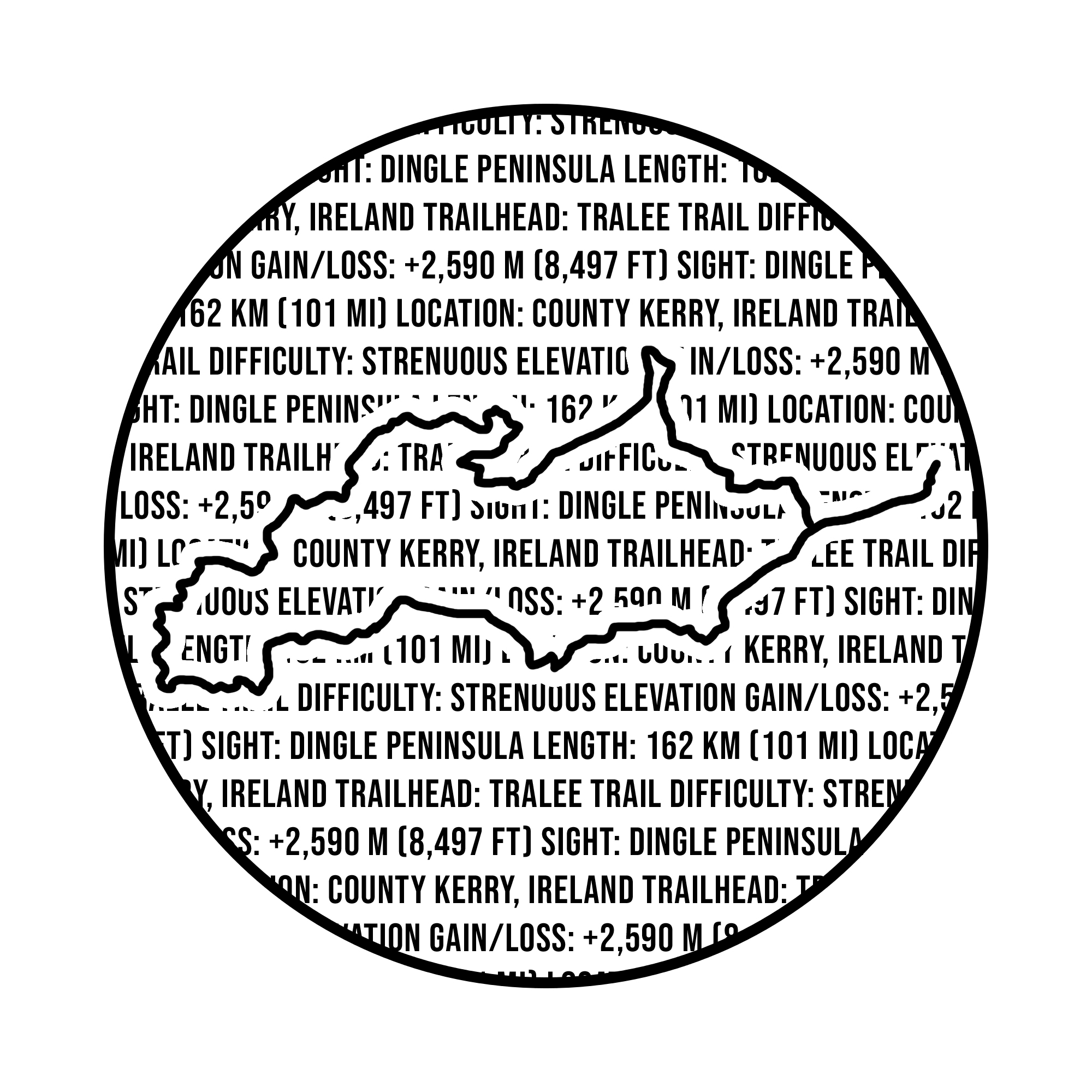 This is the initial design for the medal. If you have completed this challenge or are planning on taking on the Dingle Way and would like this medal, please get in touch through our Facebook or Instagram pages!
Additional Information
The Dingle Way Wikipedia page is a good place to start your research. The dedicated website The Dingle Way is an amazing resource for planning a trip along this route. The Irish Trails site is another great site which details a good stage breakdown of the route. 
For those interested in a tour, check outAbsolute Escapeswho have packages available to relieve you of the planning details and let you get on with the important task of completing the trek! Other options to consider are Macs Adventure and Hillwalk Tours. 
Another option for those who just want to enjoy the trek without having to worry about a large bag is the Pathway Porter Baggage Transfer. For a small fee they will transport your bag along the route. They cover the full route and can be used throughout or just on selected days. 
Choose accommodation in Tralee with Booking.com.
Beautiful Ireland
For some jealousy inducing shots watch the video below produced by Marc Kaiser who walked the Dingle Way in 2018.
The Dingle Way (Rucksack Readers)
This guidebook contains all you need to plan and enjoy your trek on the Dingle Way: the Way in sections, with summaries of distance, terrain and where to find food and drink; concise background on pre-history, heritage and wildlife; information about climbing Mount Eagle and Mount Brandon; a special feature on the Blasket Islands; planning information for travel by car, train, bus or plane; drop-down map of the Dingle Way in four panels (1:115,000); in full colour, with 70 photographs; and, on waterproof paper throughout.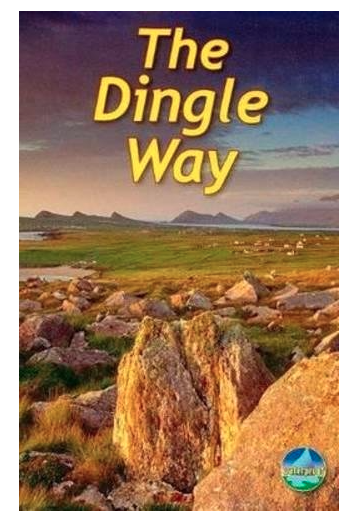 Click the image to be redirected to Amazon (Affiliate Link)
Has anyone completed the Dingle Way? Any tips for readers yet to take on this Irish trek?