Would You Rather? With Chad & Nikki from Couples Carry On!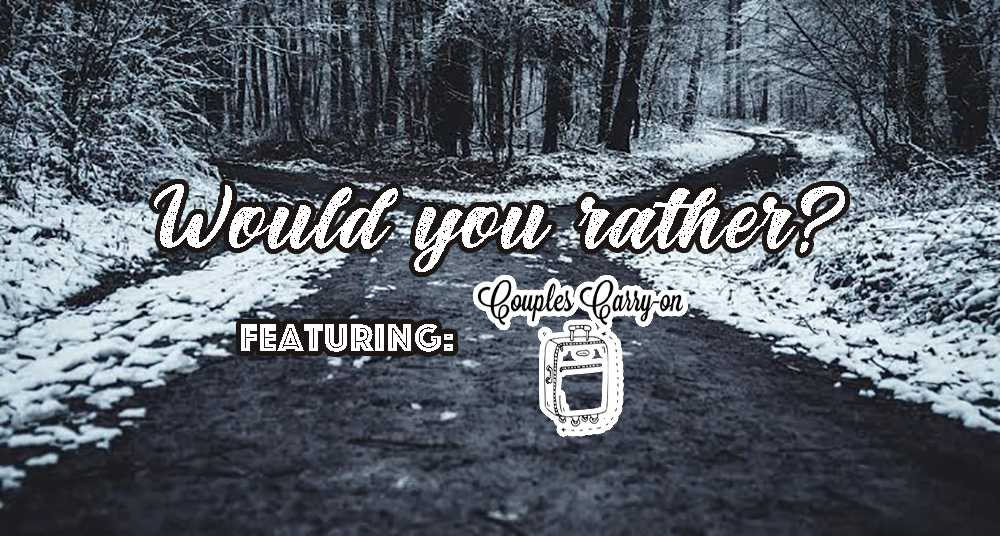 WOULD YOU RATHER? A series of interviews with Travellers, Bloggers, Travel Bloggers and just generally interesting people. We'll ask a series of difficult travel questions with two possible answers. They'll tell us what they would choose and why.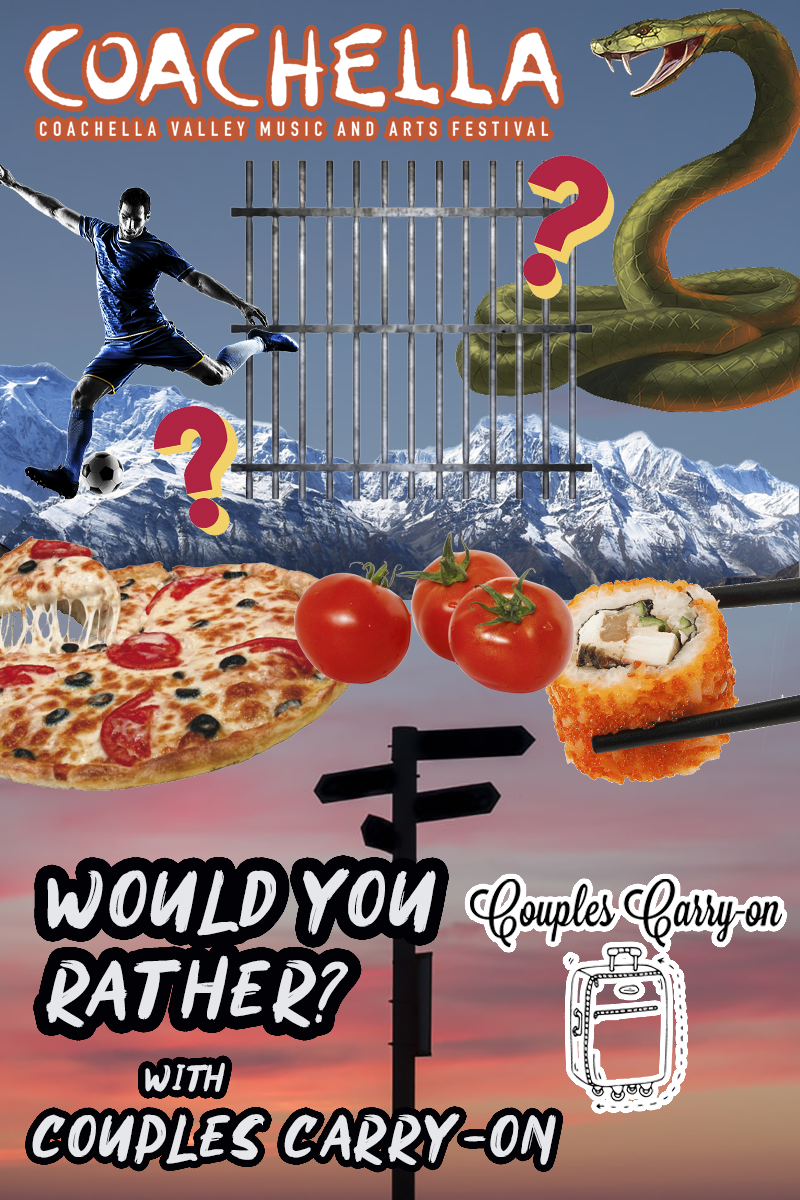 For this Article we have Chad & Nikki from Couples Carry On! They are travel bloggers from the United Kingdom and the United States who met in Iceland. After getting around the strange accents and cultural differences like Americans not understanding sarcasm, they ended up with Couples Carry-on. 
Launching a travel blog was always on their bucket lists before meeting each other and then it just clicked, that they should do it together. Creating all the content themselves is important to allow them to stay true to who they are and be authentic. Chad & Nikki write about what they want and post the pictures they want. Their website is packed full of helpful travel advice, blogs, travel essentials, booking help, and much more.
Their mission is simple, to inspire and help others who have never traveled, are only starting to travel, and to live, breathe, and sleep travel.
Now to the questions …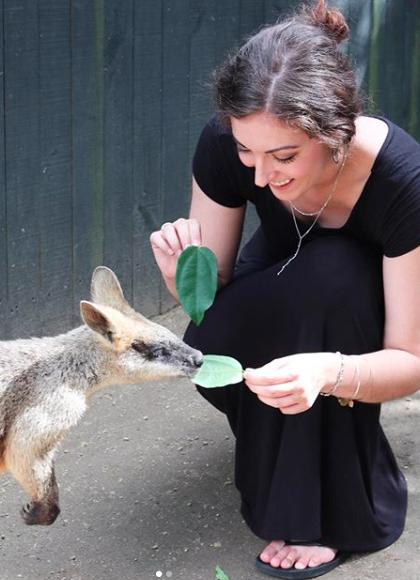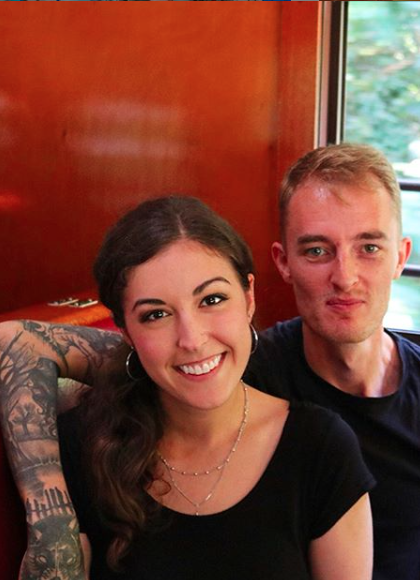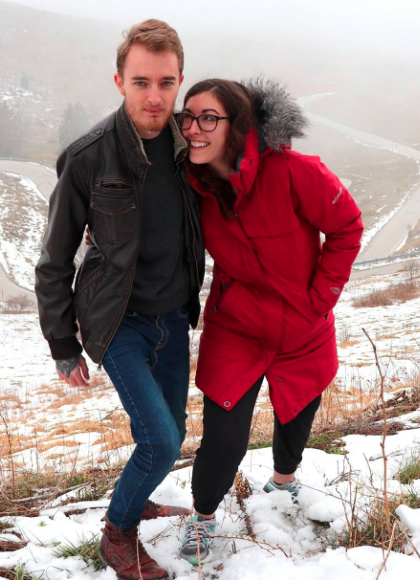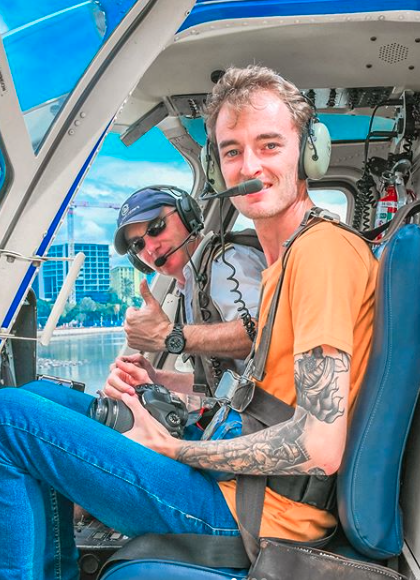 For the rest of your lives only be allowed to leave your home countries of UK and USA for 2 weeks a year or only spend 2 weeks a year in your home countries? 
This is a very tricky one, especially as our home countries are different. As much as we love to travel and life on the road, we would probably choose to only leave our country for 2 weeks. Given that we are on an "around the world" trip right now, once we return to the USA there is going to be so much to see and do there. There really would be no reason to leave at that point!
Would you rather sleep in a room with a Tarantula or a Snake?
Nikki has chosen tarantula and I have chosen a snake, there is no way we would meet in the middle on this one! I hate spiders and Nikki hates snakes!
From a street market in India, would you rather try Fire Paan or Ice Paan?
The fire and ice paan are very interesting concepts and very cultural. We both think that the fire paan would be the best one to try because when do you ever get to eat fire? It's very lucky I don't have a moustache though!
Would you rather receive two free tickets to Glastonbury Festival in England or Coachella Valley Music and Arts Festival in the US?
We would both choose Coachella Valley Music and Arts Festival in the US. England really does have some of the best music in the world and the music festivals are extremely vibrant and exciting. But for us, Coachella seems like it would be much more entertaining and diverse. Plus the weather is better!
For the duration of a two week trip, would you rather eat Japanese food in Italy or Italian food in Japan?
We don't focus so much on food in our travels but we both would choose to eat Italian food in Japan. Italian food is the best in the world, we are sure that no one would argue against a pizza!
Would you rather climb to Everest Base Camp at 5,380m or Mount Kilimanjaro at 5,895m?
It has been a dream of mine to reach Everest Base Camp and Nikki would also love to have that accomplishment too. Mount Kilimanjaro would also be up there on the bucket list but we feel that Everest takes the number one spot! Although it's always the places you don't expect that take your breath away.
Which Spanish summer festival would you rather participate in La Tomatina the tomato based food fight outside Valencia in August or the Haro Wine Battle the water fight with red wine outside Bilbao?
We both picked the Haro Wine Battle for sure. You get to run around in the beautiful sunshine, have fun, throw/drink red wine, what more could you want? 
For your next road trip would you rather complete the North Coast 500 around the top of Scotland or the Wild Atlantic Way down the west coast of Ireland?
After living in Ireland for 4 months we drove the Wild Atlantic Way and it was beautiful. So that makes this answer simple, the North Coast 500. We have heard that it's very similar to the Icelandic landscape which we fell in love with.
You shared Lonely Planets Quirkiest Hostels in Europe article. Would you rather have 3 free nights in the "Cockpit Suite" of a converted plane in Stockholm at Jumbo Stay or an old prison cell at Barabas Luzern in Switzerland? 
Whilst the plane sounds like a cool venture, we would probably rather stay in the old prison cell at Barabas Luzern in Switzerland. Unfortunately, we travelled through Switzerland for 1 month but didn't get the chance to stay there. It's always interesting to stay in quirky accommodation though.
Would you rather live for a year in Iceland where you met or Cuba?
Iceland. Hands down. Out of all the countries, we have visited, nothing will ever compare to Iceland. It has stolen our hearts and if we had the opportunity to live there for a year, we would leave tomorrow!
Chad wrote a very interesting article "15 Compelling Reasons Why You Should Travel the World" – one of the points was to help others and joining a volunteering project covers all 15 points! Would you rather go to Peru for one month to help build and maintain centres for abandoned boys and girls followed by a trek along the Inca Trail or spend a month coaching sports like football, volleyball, dance or martial arts in one of the poorest areas of Rio in Brazil followed by seeing Christ the Redeemer and lazing on Ipanema beach for a few days?  
We would both enjoy coaching sports like football, volleyball, dance or martial arts in one of the poorest areas of Rio in Brazil followed by seeing Christ the Redeemer and lazing on Ipanema beach for a few days. Either option would be a great way of giving something back and helping others, with our skillsets and personalities, we would be best suited to coaching sports.
Nikki wrote a great article on teaching English remotely via VIPKid. The advantages this offers someone wanting the digital nomad life is fantastic but if you were to spend one year teaching in a city would you rather it was Seoul in South Korea or Tokyo in Japan?
Given that we don't know much about these areas yet, (due to travel there soon) we would probably choose Tokyo in Japan. Japan has some very interesting cultural differences but in terms of teaching, there will be no problems with internet connection for teaching online and to teach in person would be a very interesting experience.