The capital of Portugal has experienced a renaissance in recent years, with a contemporary culture that is alive and thriving and making its mark in today's Europe. Perched on the edge of the Atlantic Ocean, Lisbon is one of the rare Western European cities that faces the ocean and uses water as an element that defines the city. Enchanting travellers with its white-bleached limestone buildings, intimate alleyways, and an easy-going charm that makes it a popular year-round destination.
Known for its lively nightlife, for going out, stroll around the old neighbourhood of Bairro Alto, for an after-dinner caipirinha and people-watching. Its small streets, full of people, are packed with a high variety of bars. On weeknights bars close at 2 am, weekends at 3 am. The party continues in a night-club after that. Just follow the hordes of people down the hill. Alcântara, Santos, Parque das Nações, and the castle area are all neighbourhoods with a thriving nightlife. The whole area near the river/Atlantic, known as the docas, is a huge hub for nightlife, as Lisbon has never lost its ties to the sea.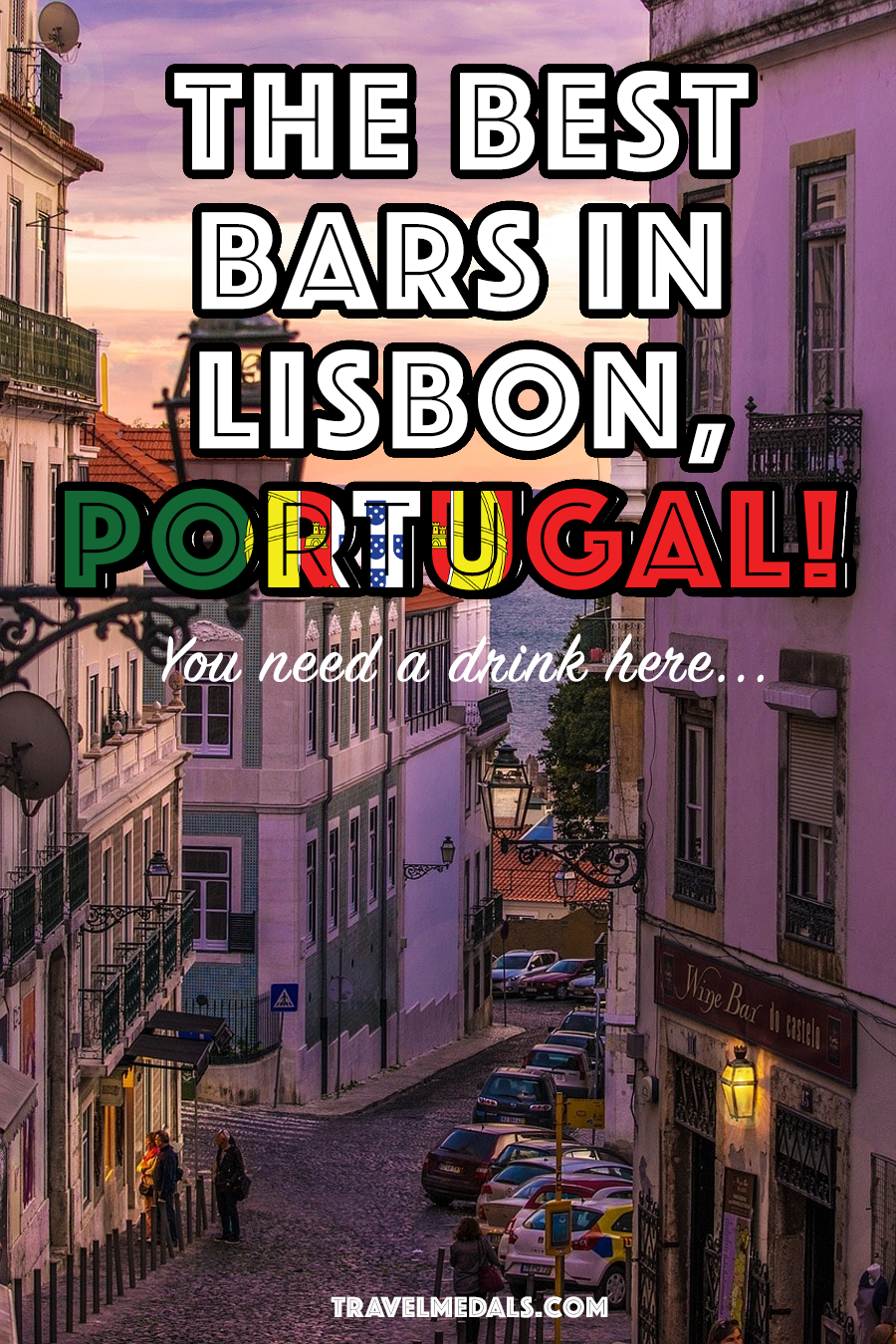 A bar located at Rua do Alecrim 19, occupying a complete building where there are different shows: burlesque, jazz concerts, plays or just DJ's. The name means 'Love Boarding House', a reminder of it's past which was once a brothel house, is now a space worthy of watching a burlesque show, having one of its signature cocktails or simply hanging out with friends. There is a really unique atmosphere with quirky decor to show the history of the space including a pole and adult bookstore. It's most certainly a one off bar and not to be missed on a trip to Lisbon!
A bar in an old grocery store with 5 rooms decorated like a museum, with toys from the 2 world wars. It's a unique space, with all the rooms full of toys, bibelots, porcelain collections, lead soldiers, all types of collectables in a magical environment with many stories to tell. A superb collection of art, consisting of small pieces, chosen with taste, over many years, subordinated to the most varied subjects. A collection of 4 thousand pieces: In fact the owner (Luis Pinto Coelho) wanted a space to expose his collection of miniatures and the 1900 building was ideal. They have an extensive cocktail and drink list, expensive by Lisbon standards but well worth it as it is not just a bar but an experience. The entrance can be hard to find, but it is worth the effort if only for its quirky setting as the Chinese Pavilion will probably be one of the most incredible places you've ever seen!
Opened in 2016, Duque is the first brewpub in Lisbon. It's located on Calçada do Duque and they have 12 taps and more than 60 different bottled beers.  Serving only Portuguese craft beer and because they can not live only on beer alone, they also have some tapas to go along with the beers that customers can enjoy inside the pub or on their outdoor terrace. Their partnership with Cerveja Aroeira has been positive and valuable. Aroeira Brewing Company was created by Pedro Lima and Vitor Faria back in 2013. The brand was officially released in 2015, brewing well known beers such as Bruta and Taborda. Feel free to toast with their hashtag: #duquebrewpub
A craft beer bar with 15 rotating taps and over 250 different bottles set in a quiet, chilled-out venue. It's a little out of the way, down a side street right in the heart of Lisbon's Old Town, but for any beer geeks it is a destination worth seeking out. Their menu constantly changes so you can always expect something new on your next visit! There is free wifi and board games are available, which are a lot of fun after a few beers. This is certainly a must visit for any beer enthusiast visiting Lisbon, or just anyone looking for a calm place away from the tourist trail.
This small neighbourhood craft beer bar located at Praca das Flores 62 specialises in national and imported beer. They believe that craft beers are made of values, ideas and concepts. They have an associated name and face. They are made by real people, who love their beers and who imprint on them the feeling of their country, city, neighbourhood, home, and life. People who are happy when they share – literally – the passion that moves them, every day. It was on the basis of this concept that Cerveteca Lisboa was born. A place to share and enjoy more than just a simple bottle of beer.
Situated on the sixth floor of a shopping center on Martim Moniz Square, this elevated location provides stunning views of the Sao Jorge Castle and Mouraria neighbourhood. It can be difficult to find your way in as it's an unmarked entrance to a high rise but well worth seeking out. The entrance can seem a little seedy however follow the sign to the lifts and go up to the roof and you'll find a nice modern bar. The staff are fun and polite, though the drinks can be quite expensive but your paying for the view. Head outside onto the terrace, grab one of the wooden benches and linger over a cocktail accompanied by tasty Portuguese appetizers.
Polished & richly decorated Art Nouveau cellar bar with a garden & a late-night food menu, a 1930's movie could easily be shot here. Located at Travessa de Santa Teresa 28, it's one of the oldest bars in Lisbon, the variety on offer is superb, from signature cocktails to classics, a wide range of gin and tonic, extensive wine cellar and offering all kinds of spirits. It has valet parking, board games, free Wi-Fi, games screen and movie projection. The best kept secret in Lisbon where the staff are super friendly and talented craftsmen, it can be quite expensive however this is a place where quality, not quantity, is the rule.
It was Clint Eastwood's movie – "The Good, the Bad and the Ugly" – that gave this bar its name, but it's not just movies that live in this bar. Located on Rua da Alecrim, the characteristic decoration, the good atmosphere, the amazing programming and the excellent cocktail list make OO Bom O Mau and O Vilão a multifaceted space that is well worth a visit … and come back! In every room there is a new discovery and the decoration allows a trip to a world where the cinema meets the art and everything with a vintage touch provided by the furniture. On the walls, there are always temporary exhibitions of emerging artists, where works are available to anyone who wants to buy them.
Choose accommodation in Lisbon with Booking.com