The Bars You Have To Visit On Your Trip To Amsterdam!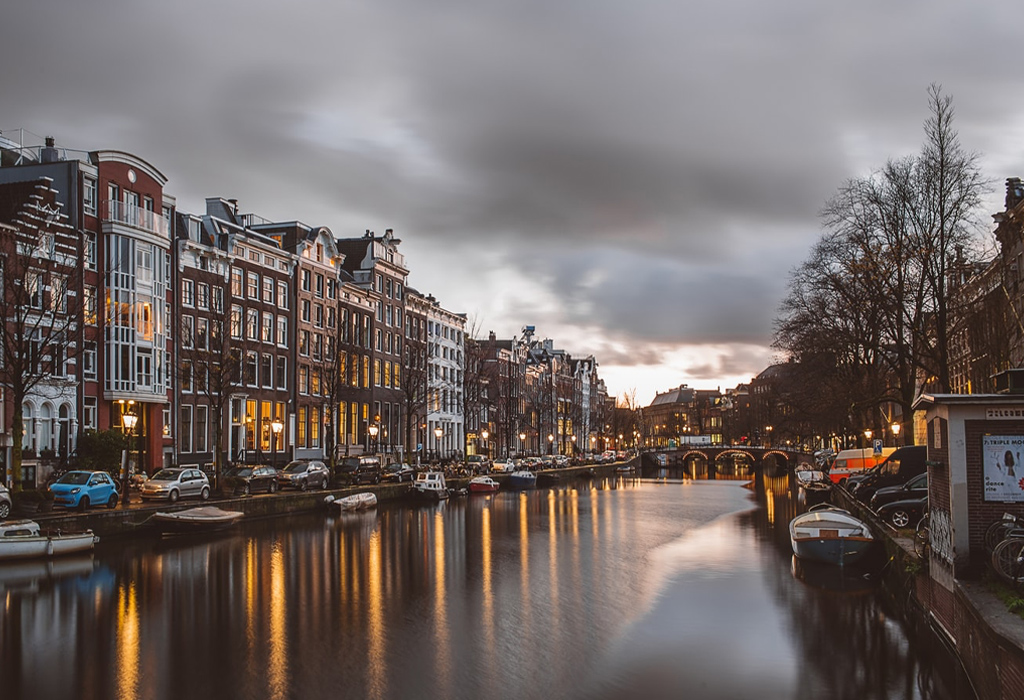 The capital of the Netherlands, with more than one million inhabitants in its urban area, it is the country's largest city and its financial, cultural, and creative centre. Amsterdam derives its name from the city's origin as "Dam" of river "Amstel". In the past, the name was "Amstelredamme" which later changed as "Amsterdam" and is one of the most popular destinations in Europe, attracting over 7 million international travellers annually. Colloquially known as Venice of the North because of its lovely canals that criss-cross the city, its impressive architecture and more than 1,500 bridges. There is something for every traveller's taste here; whether you prefer culture and history, serious partying, or just the relaxing charm of an old European city.
Amsterdam's famously wild nightlife caters to all tastes and budgets. The archetypical Amsterdam watering hole is the bruine ("brown bar" or "brown café"), a neighborhood pub of sorts with gorgeous dark wood panelling — hence the name — and booths. Popular entertainment areas with lots of bars are the Leidseplein and Rembrandtplein. Below we have a list of bars to get your Amsterdam Pub Crawl research off to a good start.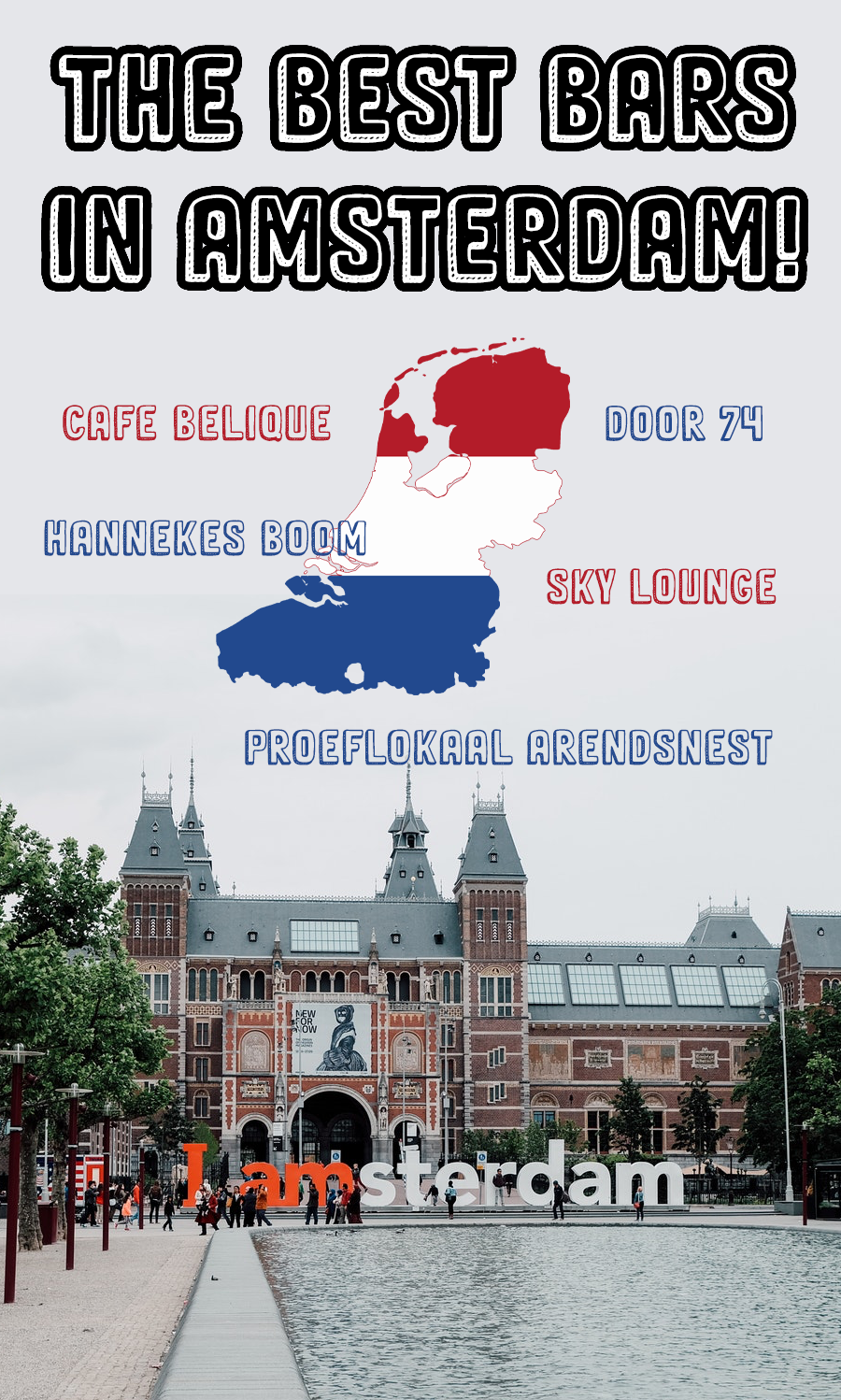 A stone's throw away from the royal palace, close to Dam Square and situated on a narrow old side street. It is a small bar which means it gets crowded for its great selection of over 50 Quality Belgian beers which are all moderately priced and served very hospitably by the knowledgeable bar staff. The intimate atmosphere is lovely, the decor is very enjoyable, as is the music. Cafe Belgique is centrally located but has the feel of a hidden gem. Definitely a great pleasure to have a drink here after a day of sight-seeing to watch an interesting mix of locals and tourists.
The first speakeasy-style cocktail bar in The Netherlands. Door 74 has the requisite hidden door, antique bar-ware, tin ceiling and sophisticated atmosphere, plus delicious and perfectly balanced creations by the team. For drinks, they offer a seasonal menu, every day their team creates a special and unique "Cocktail of the Day". When inside, peruse the eclectic cocktail menu and ask the advice of the expert bartenders. For a great time at Door 74 you need to follow the House Rules. First and most important, always behave like Ladies & Gentlemen. No screaming/yelling/being annoying. No hitting on other guests (with exception of the bar staff off course). No hats/hoodies/caps. Finally a great rule for any bar of this quality – no mobile phone/laptops/tablets/PDA's or other slave tools, you are there to enjoy your drinks and/or your company so please do that. If it is truly unavoidable, please step to the bathroom or door.
Did you know there are more than 400 breweries in Holland? In Proeflokaal Arendsnest they only serve beers from Holland. They are proud to say they have 50 beers on draft and more than 100 bottled beers. In the heart of Amsterdam on Herengracht 90, they have been serving their special Dutch beers for more than 15 years now. Visitors from all over the world recognise them for the love and expertise they have in Dutch beers and their employees love to tell you more. The bar itself has an intimate setting, including a terrace along the canal and a tasting room where they organise beer tastings for groups up to 32 persons. Allowing guests not only the opportunity to taste the best Dutch craft beers available, but to learn about what they are drinking. It goes without saying that Proeflokaal Arendsnest also has other beverages, such as ciders, liquors, whisky's and more than 40 different kinds of gin, all from Holland. This is a definite must do for any beers lovers to Amsterdam to taste the Dutch Craft Beer Culture!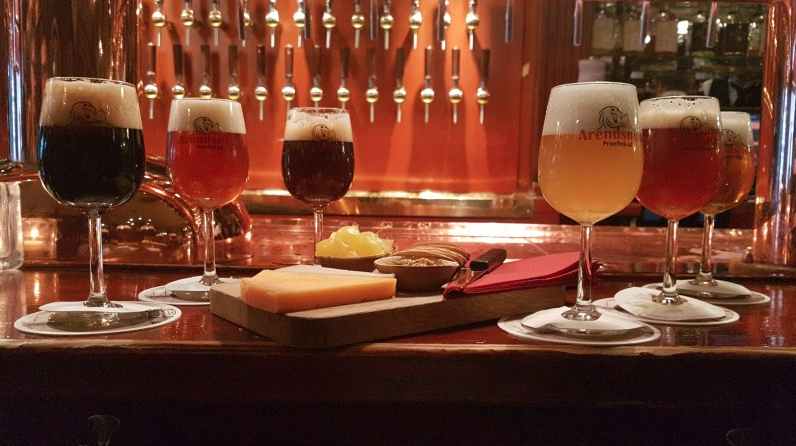 Each metropolis has a unique spot to discover the city from great height. Amsterdam has the SkyLounge, an award winning roof-top lounge bar overlooking this unique metropolis. It is located on the top floor of the DoubleTree by Hilton Hotel. This is the place where inhabitants of Amsterdam and global travellers meet each other. SkyLounge offers you a panoramic view of Europe's most energetic capital, 365 days a year. A perfect spot throughout the entire day, for both business and private meetings. Enjoy a cup of Buscaglione coffee or a dish from their sophisticated lunch menu. In the afternoon, sample their refined cocktails, superb wines, delicate bites and dishes for an unforgettable experience. Later in the evening, SkyLounge is ready to hit the city's nightlife. Every evening their DJs and cocktail shakers mix the perfect atmosphere and turn SkyLounge into an energetic lounge club.
Amsterdam's cultural restaurant with a large terrace and harbor on the water with a view of the iconic NEMO science centre. It is only a few minutes walk from Amsterdam Central Station. For visitors to the city, it makes a great stop for a beer before or after the Maritime Museum. If you have creative ideas, contact them and Hanneke makes them a reality! Every Sunday afternoon and in the winter on Wednesday evening they present live music; jazz, soul, hip hop / spoken word and singer / songwriters. Every Friday and Saturday evening they have a DJ from the house who plays nice danceable records. These DJs let you swing, dance and drink, so go and eat, drink and listen to music!
Choose accommodation in Amsterdam with Booking.com