The Best Bars In Budapest!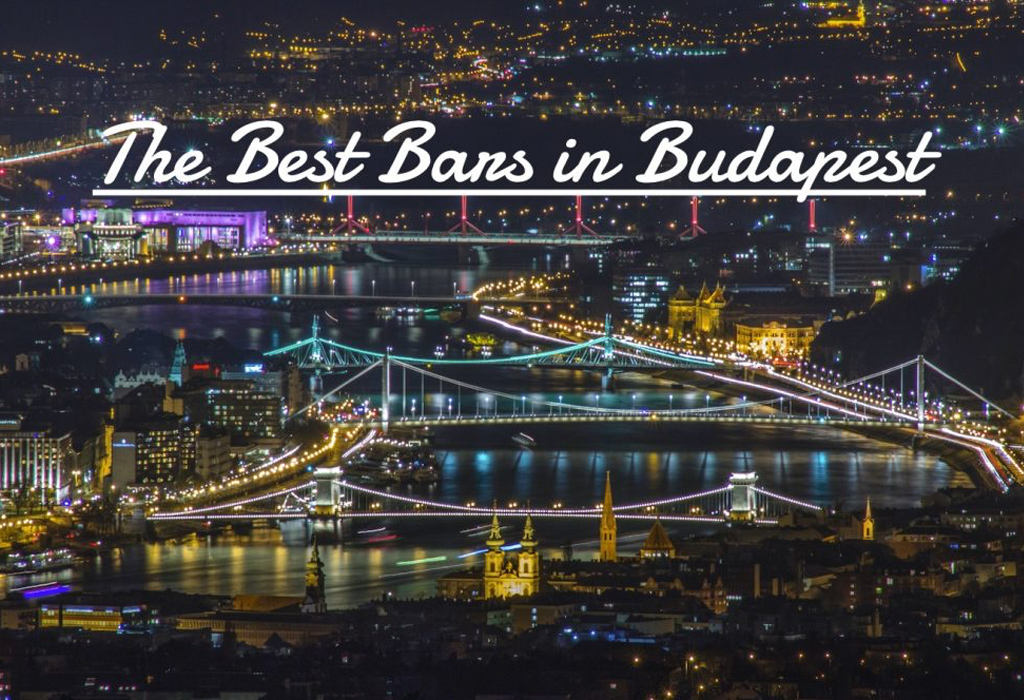 For anyone planning a city break in Budapest, the capital and most populous city in Hungary, we've got a list of the best bars in the city. There are lots of beautiful sights and exciting tourist activities around and these bars are the perfect spots to relax with a drink while exploring this amazing city.
Go to Kazinczy Street to deep vie into Budapest's unique nightlife! It is not an accident that it's also called the Street of Culture, Kazinczy street offers the greatest variety of touristic highlights, the most famous ruinbar, fine dining and the highest quality Kosher restaurants, the most colorful streetfood in Budapest. Under 14. Kazinczy street you can find the pioneer of them all; the first ruinbar: Szimpla Kert. Here you will find an uncomparable atmosphere, fine food and drinks, cultural events like movie projections, live music concerts every Tuesday, Wednesday and Thursday, a free jam session on Sundays, farmers' market on Sunday mornings and many more. Szimpla Kert welcomes you all day with breakfast, lunch and dinner offers, beautiful garden, interesting objects and people. It's always full of life, especially in the evening, it turns into an international meeting point.
Warmup bar is located in the very popular party district of Budapest. It has quickly become one of the iconic places in the city's night life. They consider each cocktail a piece of art and have three fundamental philosophies: customised cocktails, based on your preference and liquor perfectionism. It's a very interesting concept so be prepared for having no set menu and let the talented staff guide you. All cocktails are custom made, you will never receive two of the same. The staff will ask you questions to get your preferences on taste and potential allergies, then the bartender will create a cocktail made just for you. Even if your answers never change, the staff will make an excellent personalised artisan cocktail every time. They are also trying edible mixology with molecular cocktails, always striving for liquor perfectionism and flawless cocktails.
A Cocktail & Whisky Bar in the heart of a city where you can taste more than 500 spirits, may be called extraordinary in its own right. A bar where world class cocktails are made from these drinks and delicious snacks can also be ordered, is certainly even more attractive. However it is good company that makes the GoodSpirit Bar truly extraordinary. Their aim is to make everybody visiting the GoodSpirit Cocktail & Whisky Bar feel and experience the love and dedication they have towards quality drinks, special cocktails and civilised drinking in general. The backbone of their spirit selection consists of about 300 various whiskies including even Hungarian whiskies. Beyond whiskies they offer an extremely wide selection of Spanish, British and French style rums, other French spirits as well as gin, pálinka, vodka, pisco, mezcal, tequila, liqueurs and bitters. Innovation, ongoing development, up-to-date proficiency in international trends are very important to us because we do believe: anything worth doing is worth doing well.
Have you ever seen an igloo on a rooftop bar? No, well at 360 Bar they have figured out a very special way to keep you warm and serve you while still being able to enjoy the literally 360 degree view of the city with all the main landmark buildings. They have installed eight giant heated igloos. Each of the igloos provides amazing panoramic views and they are the perfect spot for taking beautiful photos in Budapest. They also come with a personal buzzer on your table connected to the main bar for personal waiters to come to your table and take your order so you can spend more time with the view. They have a fantastic cocktail selection and a range of spirits available. If possible book in advance to secure your table and plan your visit around sunset for phenomenal city views.
Skeletons on the ceiling, giant mouse footprints on the floor, old street signs on the wall, welcome to the special, colourful and bohemian VAKEGÉR'S WORLD! At weekends you never know if you'll get into a Retro, a Sexy Bunny, a Light Therapy or a Ladies Night themed night. Only one thing is sure: our unique drink exchange garantees you the coolest and the cheapest boozes! There are always 9 beverages on the exchange at the same time and their price doesn't changes randomly. As at the real stock exchange, the prices are influenced by the the demand and supply. The huge monitors keep you posted about the change of the drink prices. The more you drink from a beverage, the bigger is its price. If a booze isn't in demand then it starts to become cheaper and cheaper. You'll never know when the market crash will strike so be ready! When this moment arrives the prices start to fall. Focus and drink for cheaper! Come down to the downtown cellarage where something happens every time!
Beach of the city, located at the north pillar (Pest side) of the iconic Chain bridge, it's your urban hideaway for all summer long and guarantees to show something new each day of the week. The venue is not only unique by design but full of selected sounds and programs, a cultural/community space, and party venue whose mission is to bring the Danube closer to the people of Budapest. Pontoon's vision was to organise regular live music events so anyone can listen during sunset to the ad-hoc performances and jamming of musicians getting together from several well known Hungarian bands. Everybody can enjoy not only the view which includes Chain bridge, Gresham Palace, the Danube and MTA building while sitting by the riverbank, but the coolest drinks, the beach friendly pizza baked in a wood-fired oven and the parties till sunup with the best Hungarian and foreign DJs while the Danube flows by. This is how PONTOON makes an urban beach life in the heart of Budapest.
Choose accommodation with Booking.com