Top 10 Board Games For People Who Love Travel!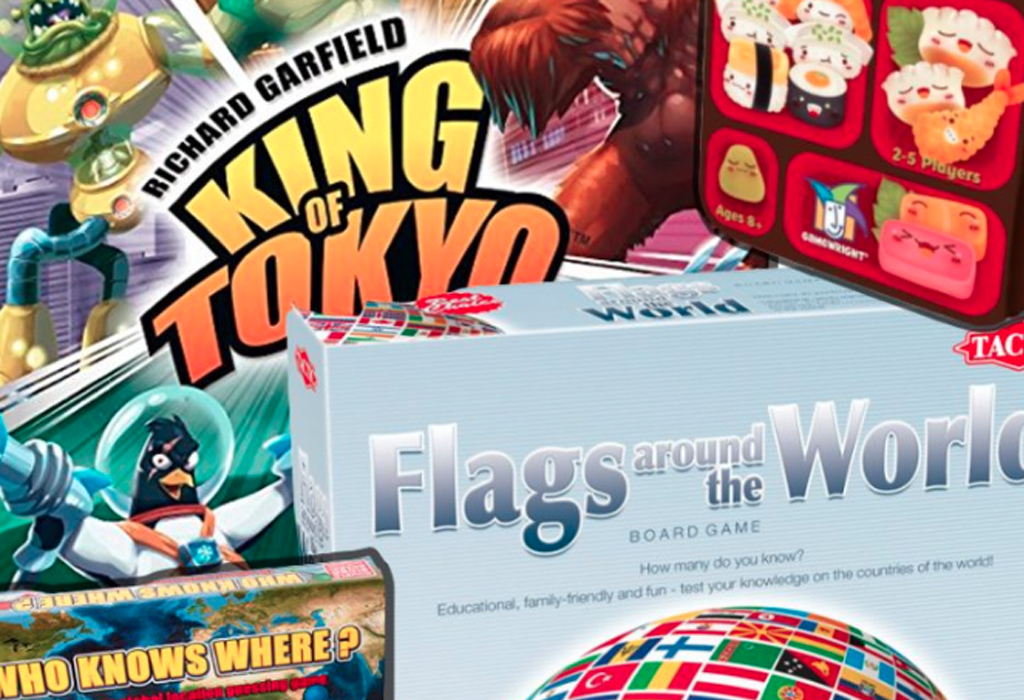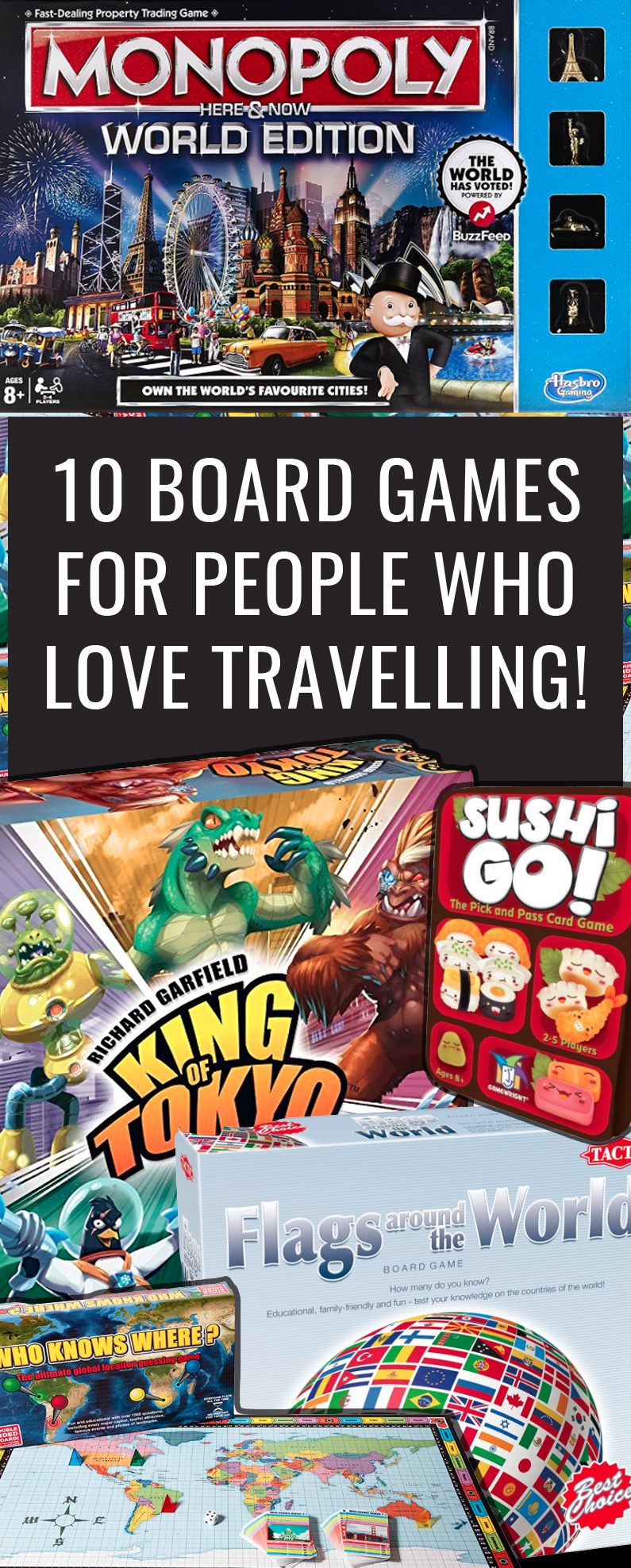 While saving hard for those big epic trips away, there is always plenty of nights in. We're suggesting 10 of the best board games to buy for entertaining family and friends with a focus on TRAVEL! What better way to save some money than staying in with a board game that will expand your knowledge of the world and get you in the mood for more adventures! For more information on any game click on the images. 
Ticket to Ride: Europe
Ticket to Ride Europe takes you on a new train adventure through the great cities of turn-of-the-century Europe. It's elegantly simple; can be learned in 3 minutes; and appeals to both families and experienced gamers. Would you risk a trip through the dark tunnels of Switzerland? Venture aboard a ferry on the Black Sea? Erect lavish train stations in the great capitals of the Old Empires? Your next move might just make you Europe's greatest train magnate.This new train adventure takes players through the great cities of turn-of-the-century Europe. From London to Constantinople and from Barcelona to Moscow players compete to claim routes. This european edition features exciting gameplay additions. There are tunnels to help you traverse the high mountain passes, waterways to navigate aboard ferries, and new train stations waiting to be built. The game's superb components have also been given a first-class makeover and now include larger cards and brand new train station pieces.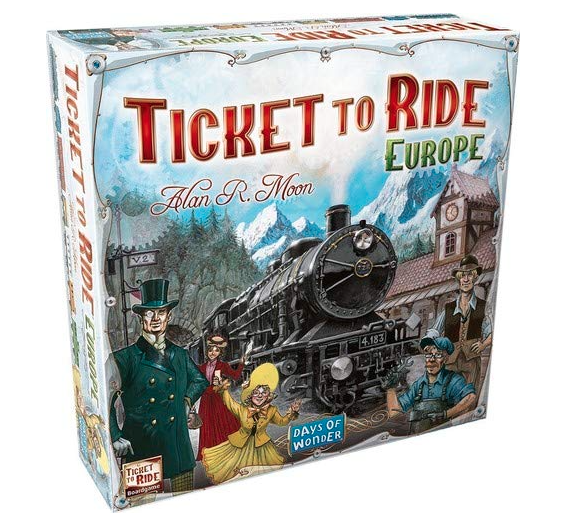 Monopoly Here & Now: World Edition
Own the world's favourite cities in this Here & Now version of the fast trading property game, Monopoly! The jet-set gameplay will be epic as you race around the world to visit the world's most exciting places and buy locations. Every time you add another stamp to your passport, you get closer to the globetrotting win! Monopoly and Travel fans voted for the 22 top cities in the world to feature. The game-board features exciting cities such as Lima, Athens, New York and Sydney, and includes iconic tokens such as a windmill, an alpaca, and a member of the Queen's Guard. Get ready for a world-class game night – buying, owning and taking over the places you've visited around the world!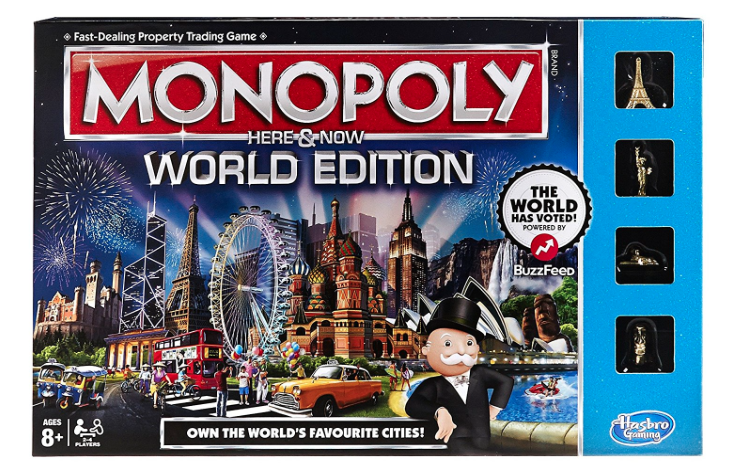 Who knows where?
The ultimate global location guessing game. This brilliant, award winning board game has over 1000 questions in 5 categories, including capitals, major cities and towns, events and facts, famous tourist sites and beautiful images of many iconic landmarks. It's quick and simple to play and appealing for a broad range of abilities with everyone playing all the time, there's no waiting around. If you can't guess you can think about "Who Knows Where" and risk piggy backing on one of your opponent's guesses, but choose wisely because if they are wrong you will be the one going backwards! With a great combination of knowledge, tactics and luck all players are able to win. Who Knows Where is an addictive board game that is great fun for all and essential for anyone who is curious about the world!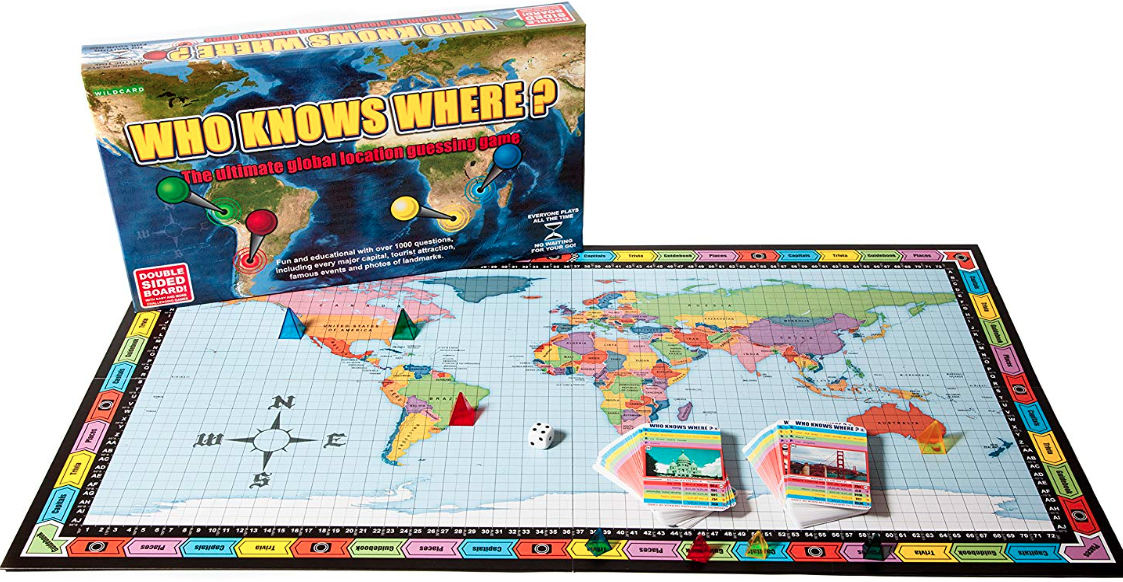 Flags Around the World
This game is ideal for geography-lovers, name the country and claim the flag in this trivia trip around the world! It's a great educational family game with multiple-choice questions about every country. An opportunity for everyone to learn about countries and capital cities as you collect Flags to win. The game comes with 195 flag cards, 5 continent cards, 30 colourful people pieces, rules & board. The questions cover EVERY country in the world therefore playing this game is sure to help your general knowledge at your next quiz night!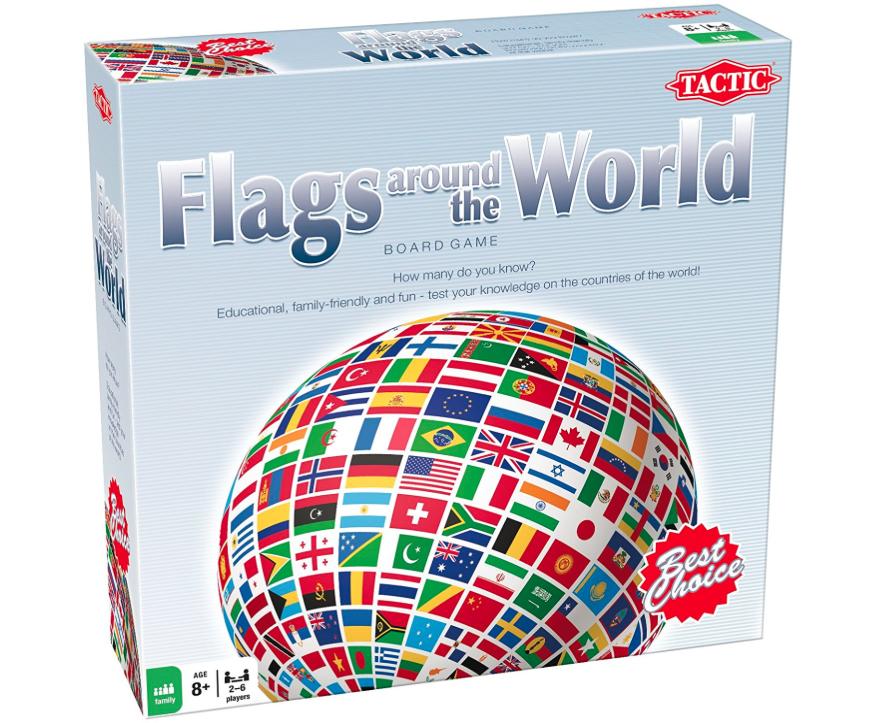 Globe Runner
First around the world wins in this classic race board game for all the family that uniquely travels through all the countries of the world. It's adjustable to the age & abilities of the players allowing people with different levels of geography knowledge to play together. Play by answering multiple choice questions on countries, capital cities, flags and other categories. The action continues with special squares allowing you to use the highest mountain on every continent to catch up or encounter the hazards of crossing Antarctica, rounding the treacherous Cape Horn or getting lost in the Sahara, Amazon or Bermuda triangle! A great, fun way to learn about the world!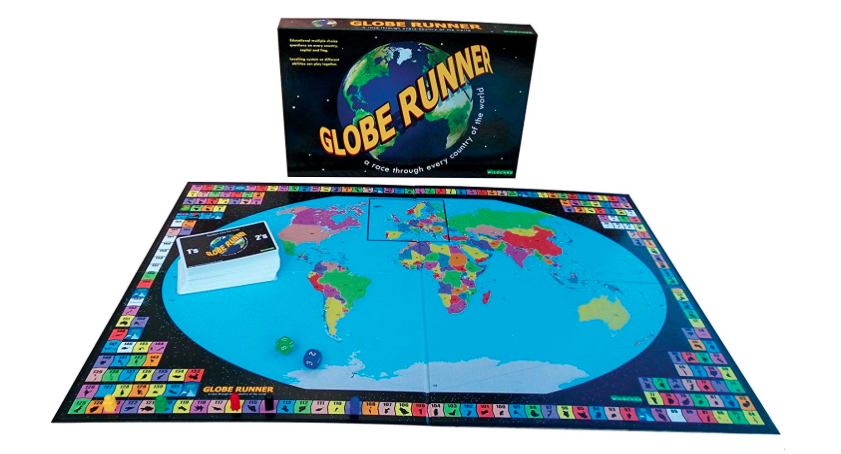 Mapominoes Europe
The Ultimate Geography game bringing dominoes and maps together. It's a fun, easy to learn and highly addictive educational travel card game for all the family. It's like dominoes but with maps, as you build a map of Europe, by connecting countries that share a common border. Stay one step ahead of your opponents, as you race to be the first player to play all your country cards on the table and win the game. Block your opponents by holding on to France or Germany or open up the Baltic States by playing Russia. Try not to get stuck with San Marino, or landlocked with Liechtenstein as you watch the country cards spread across the table. Cleverly designed so that even people with no geography knowledge can play as all the information you need is written on the cards with the great bonus is that you learn more geography just by playing the game. A simple game with hidden strategic depth, that you will want to play again and again, giving it a broad appeal to both children and adults.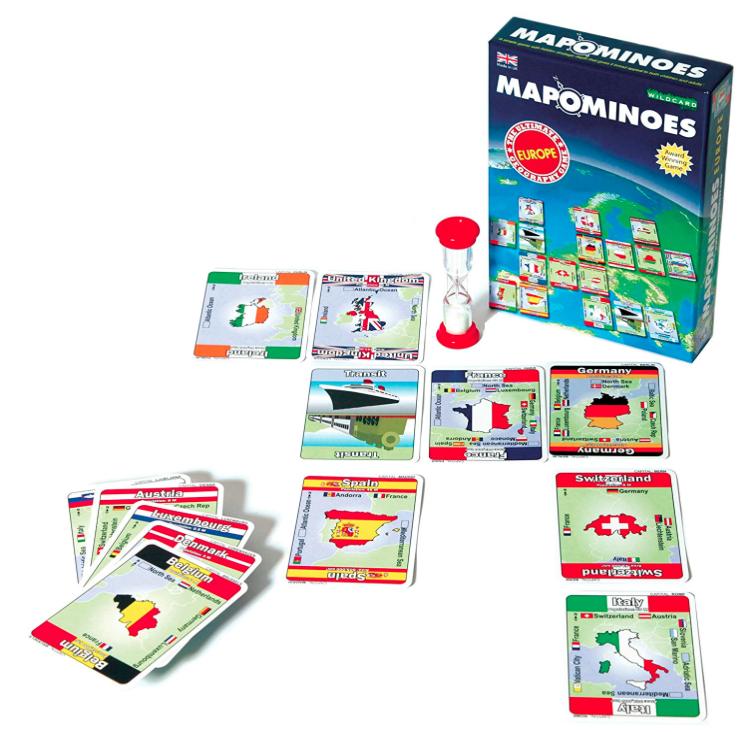 Sushi Go
Pass the SUSHI! In this fast-playing, fun and vibrantly illustrated card game, the goal is to grab the best combination of SUSHI dishes as they whiz by. Score points for making the most maki rolls or for collecting a full set of sashimi. Dip your favourite nigari in Wasabi to triple its value. But be sure to leave room for dessert or else you'll eat into your score! Gather the most points and consider yourself the SUSHI Master! This is a unique and immediately approachable take on card drafting that makes for a game that's easy to learn, quick to play, and yet engaging for all ages. With a short playing time of around 15 minutes this makes a great game to take travelling. Just like a great meal at a SUSHI bar, this game will have you coming back for more time and time again! This pick and pass card game reinforces probability, visual discrimination and strategic thinking. The perfect game for those planning a trip to Japan!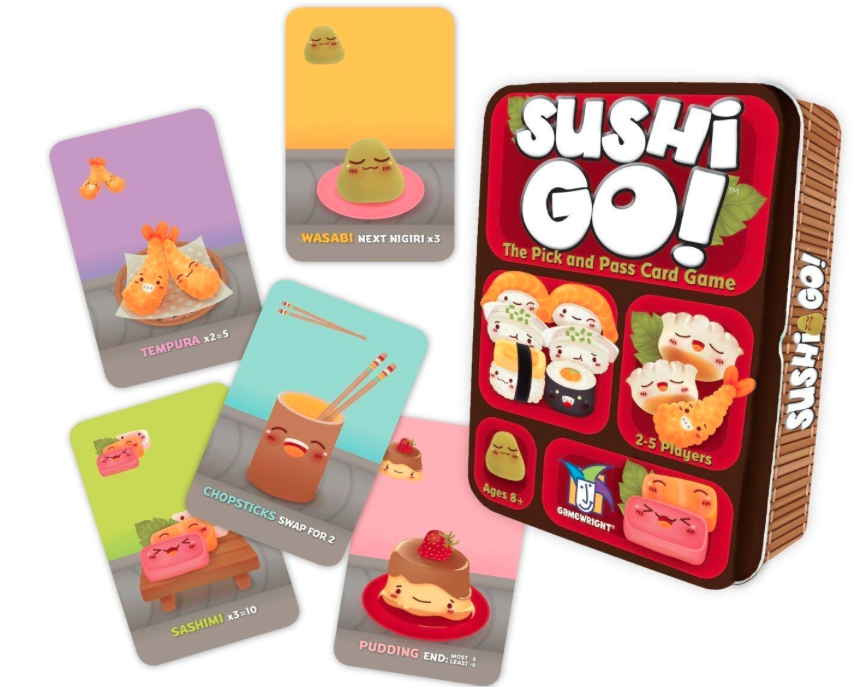 King of Tokyo
Continuing the Japanese board game theme: King of Tokyo is a game for 2 to 6 players where you play as mutant monsters, rampaging robots, or even abominable aliens battling in a fun and chaotic atmosphere. All vying for position as the one and only King of Tokyo! Roll dice and choose your strategy: Will you attack your enemies? Heal your wounds? Improve your Monster? Stomp your path to victory! This new edition of the best-seller boasts new artwork illustrations, a new rule book that was reworked to be clearer, and revamped card abilities. Monsters have a new look, as well as two new monsters: the ever-so-popular Space Penguin (thighly sought-after by players, was only available through tournaments in the original version) and Cyber Kitty. In order to win the game, one must either destroy Tokyo by accumulating 20 victory points, or be the only surviving monster once the fighting has ended.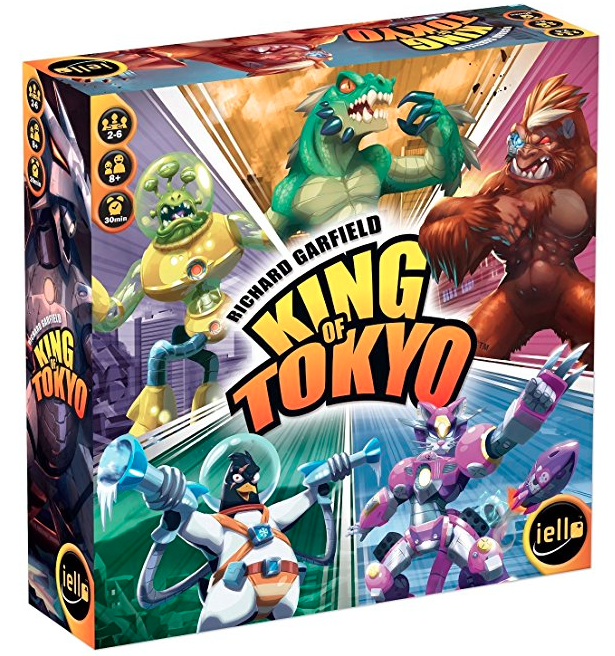 BACKPACKER – The Ultimate Travel Game
A fantastic pocket-sized card game for 2 to 6 players. Experience all the fun and unpredictability of travelling the world, as you try to outwit your opponents to be the player who returns home with the most photos. Visit different countries, enjoy beaches, trekking, wildlife and culture, meet other travellers and get good and bad advise, whilst trying to avoid getting sick or missing your plane. No two games are ever the same. Brilliant world travel card game, that fits nicely in a rucksack being just bigger than a normal pack of cards. Play at home to prepare for your next trip, on a short holiday or during your next big trip with new friends. This game is essential for anyone who loves foreign travel. Just like travelling, it's fun, exciting, fast changing and very addictive. The perfect gift for someone about to set off on a gap year.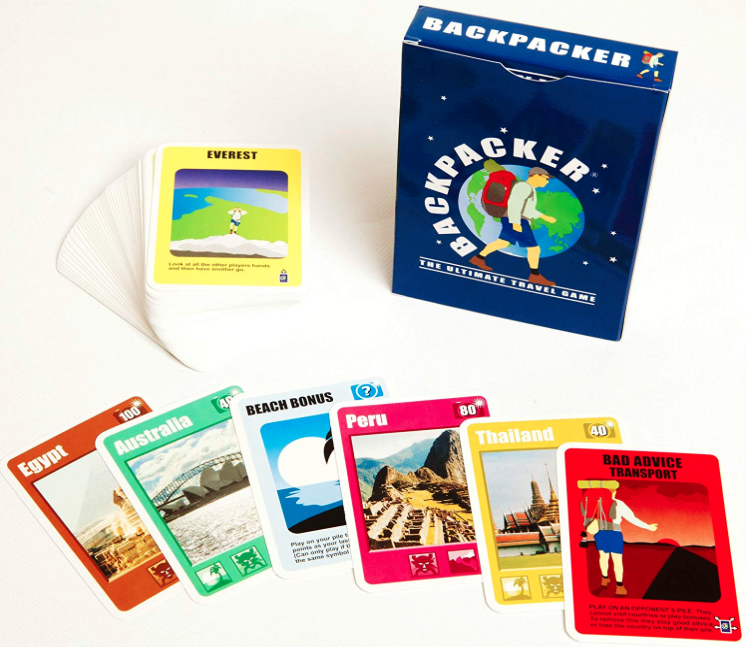 KLASK
The fast and frantic magnetic party game hailing originally from Denmark, Klask combines the best of table football and air hockey to create a highly competitive and thoroughly enjoyable table-top game. Players control their playing piece using the magnetic handle underneath the board and compete to hit the ball into their opponent's goal. Points can also be won through your opponent's mistakes, such as gaining a point if they fall into their own goal and gaining a point if two or more of the magnetic obstacles stick to their playing piece. Simple to learn and lots of fun to play!
With Klask you can play it anywhere, like a fussball table on-the-go, it comes fully assembled and can be played on any flat surface. The board and frame are ready assembled and it is nice and robust. It is beautifully designed and carefully crafted in the finest regions of Denmark with a lovely wooden finish while being supplied in a sturdy, branded cardboard box with a carry handle so it is very portable. If your off on a  trip to  Sweden, Denmark or Norway – pick it up for some practise to wow the locals in the pub.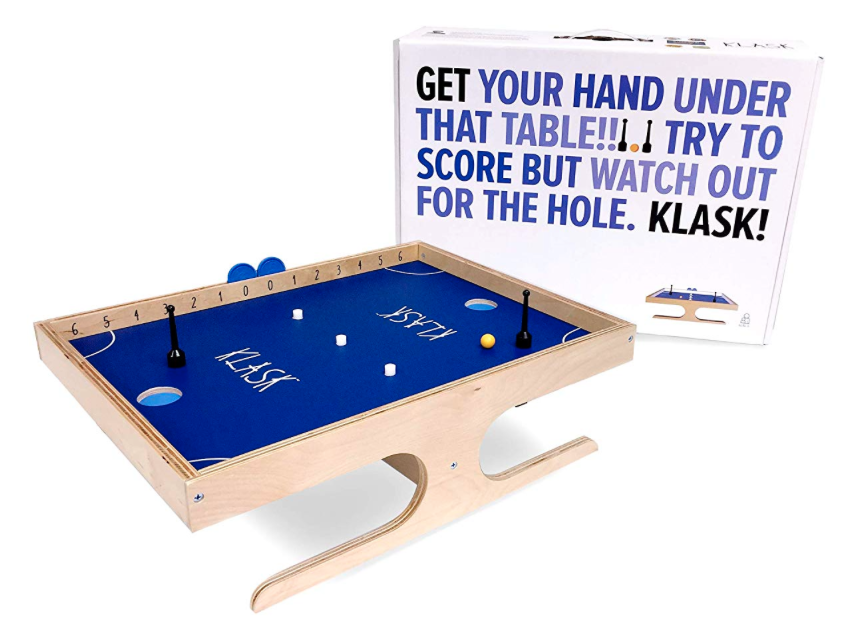 Whats your favourite travel related board game?