Ring Road in Iceland Road Trip Challenge!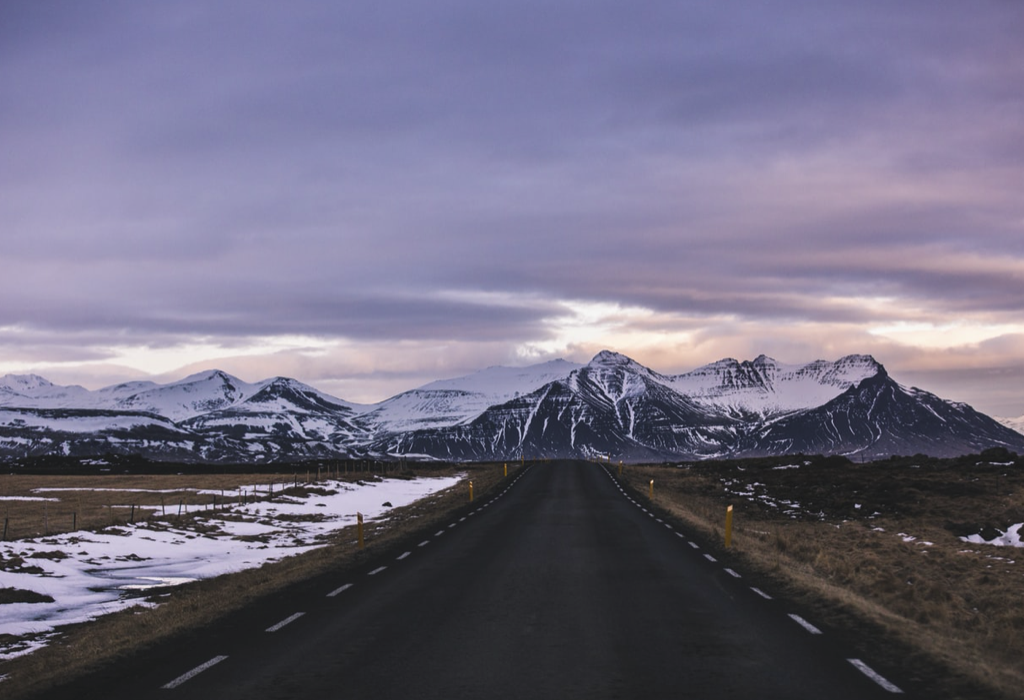 The Ultimate Road Trip around Iceland
Route 1 or the Ring Road (Icelandic: Þjóðvegur 1 or Hringvegur) is a national road in Iceland that runs around the island and connects most of the inhabited parts of the country. The total length of the road is 1,332 kilometres (828 miles). Some of the most popular tourist attractions in Iceland, such as the Seljalandsfoss and Skógafoss waterfalls, Dyrhólaey and the Jökulsárlón glacier lagoon, are by the Ring Road.
The road was completed in 1974, coinciding with the 1,100th anniversary of the country's settlement when the longest bridge in Iceland, crossing the Skeiðará river in the southeast, was opened. For almost all its length, the road is two lanes wide: one lane going in each direction. Some portions of the road contain potential hazards such as blind curves and blind summits, single lane bridges or narrow passes. The maximum speed on most of the road is 90 kilometres per hour (56 mph), and 80 kilometres per hour (50 mph) on gravel.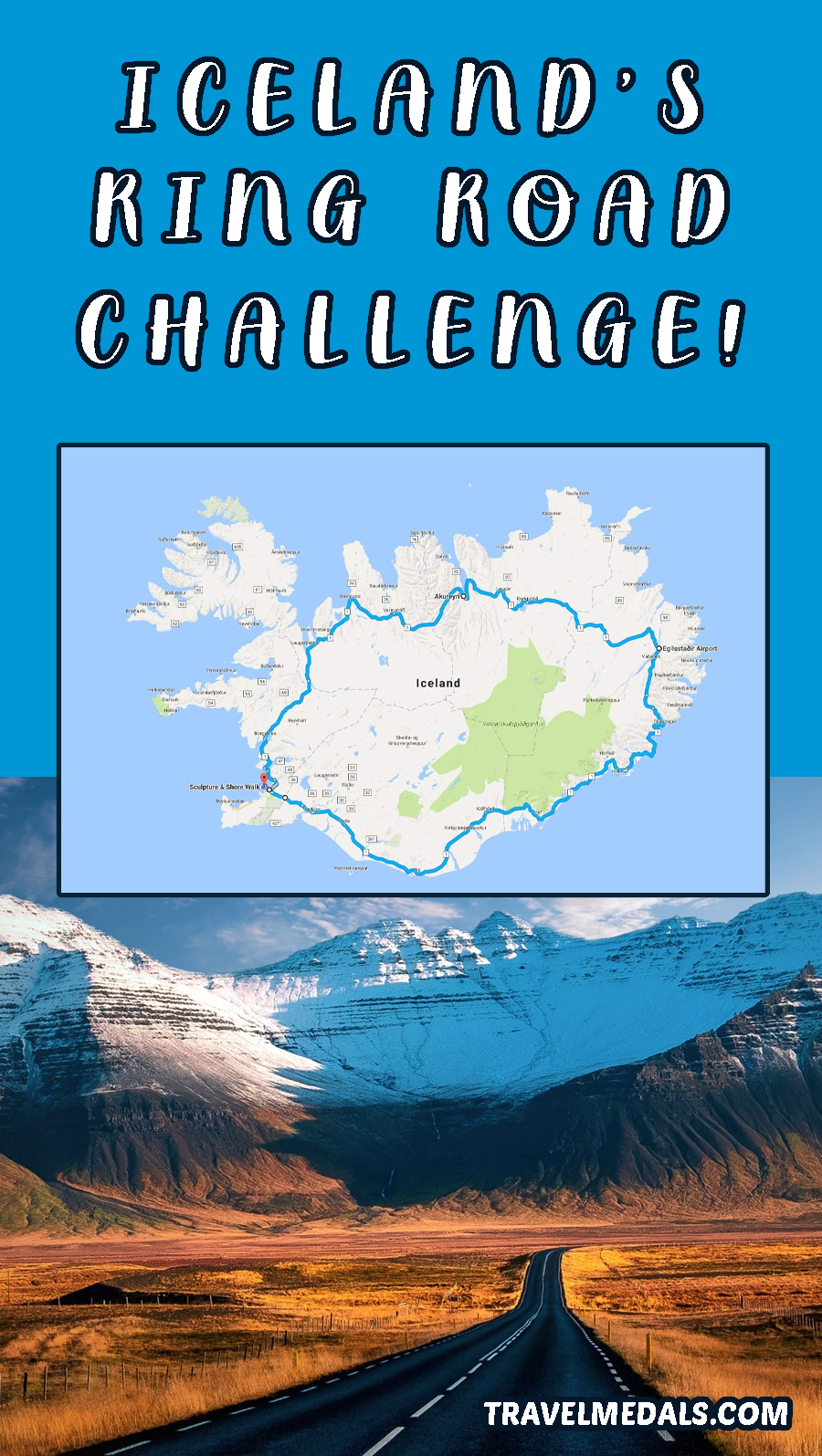 The Challenge 
To complete this challenge you must drive the full Ring Road around Iceland. 
If you want you can also share your experience and adventures along the way as well as tips and information to help others complete this travel challenge.
Feel free to tag @travelmedals on Instagram or Facebook on each picture.
After completing the challenge you can reward yourself with an Iceland Ring Road themed Travel Medal! Good luck!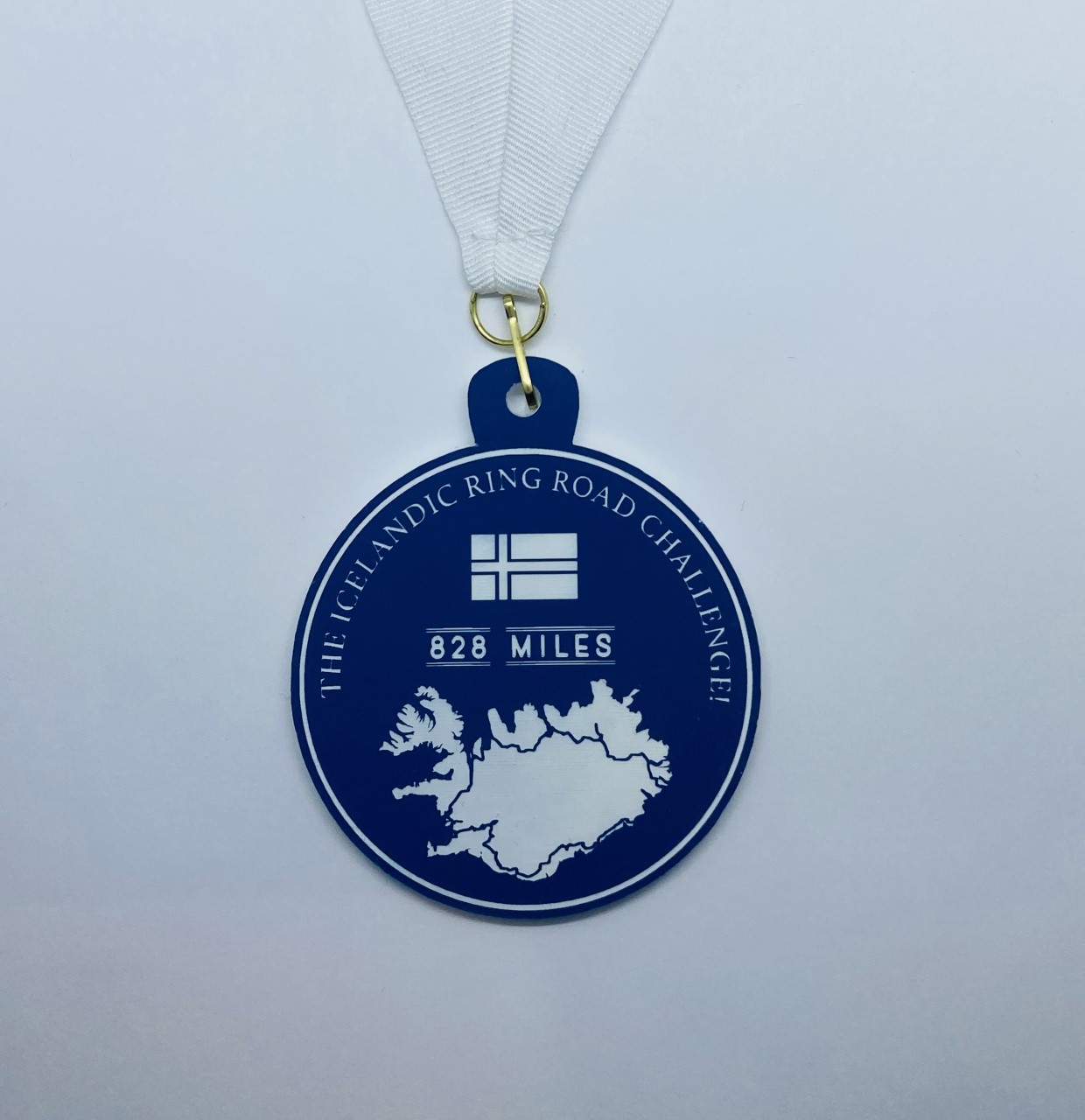 Click on the medal to be redirected to our store or click here.
Additional Information
The wikipedia page on Route 1, details the driving conditions and sections of the ring road. As you won't want to drive around Iceland in one day, Guide to Iceland has all the best attractions along the road. These include hikes, beaches, viewpoint, a plane wreck, waterfalls and beautiful villages. To narrow this full guide down to a simple top 10, visit Extreme Iceland, which has done just that! Finally for a full one week itinerary in detail, visit Finding the Universe. A travel blog run by Laurence and Jessica since 2010.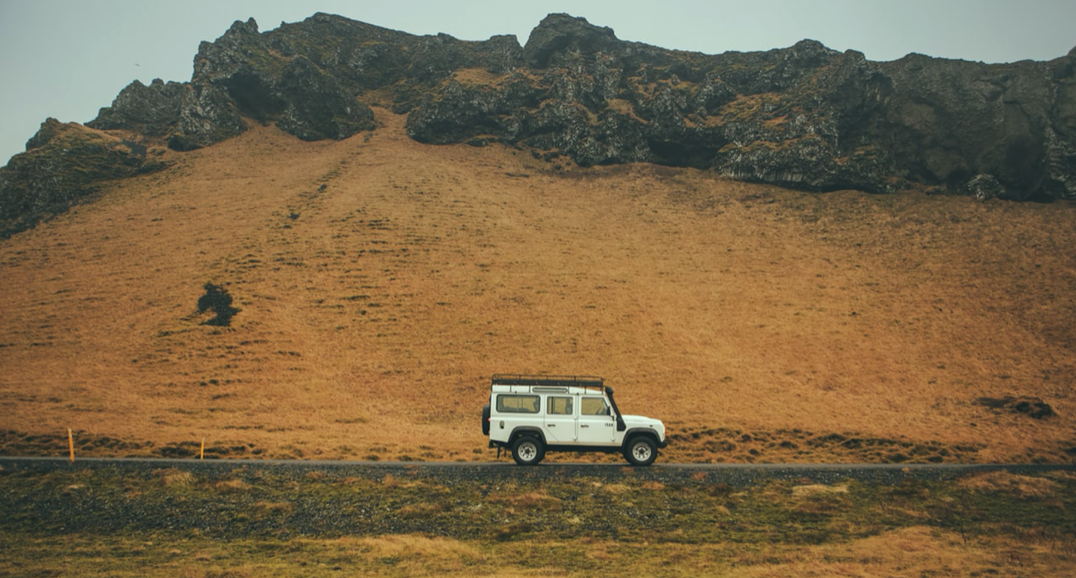 The Ultimate 7-day Iceland Road Trip
For anyone considering a trip on the ring road, you can get inspiration from this 7-day Iceland road trip video produced by TravelPockets. They are half Japanese and half American sisters who love travel & fashion. They advise this was probably the best road trip they've ever experienced! From Reykjavik to Solheimasandur to Myvatn to Kirkjufell, every stop was breathtaking and dramatic. Follow their next adventures on Instagram and Facebook. 
Who has this spectacular road trip in Iceland on their bucket list?