Mount Olympus In Greece Summit Challenge!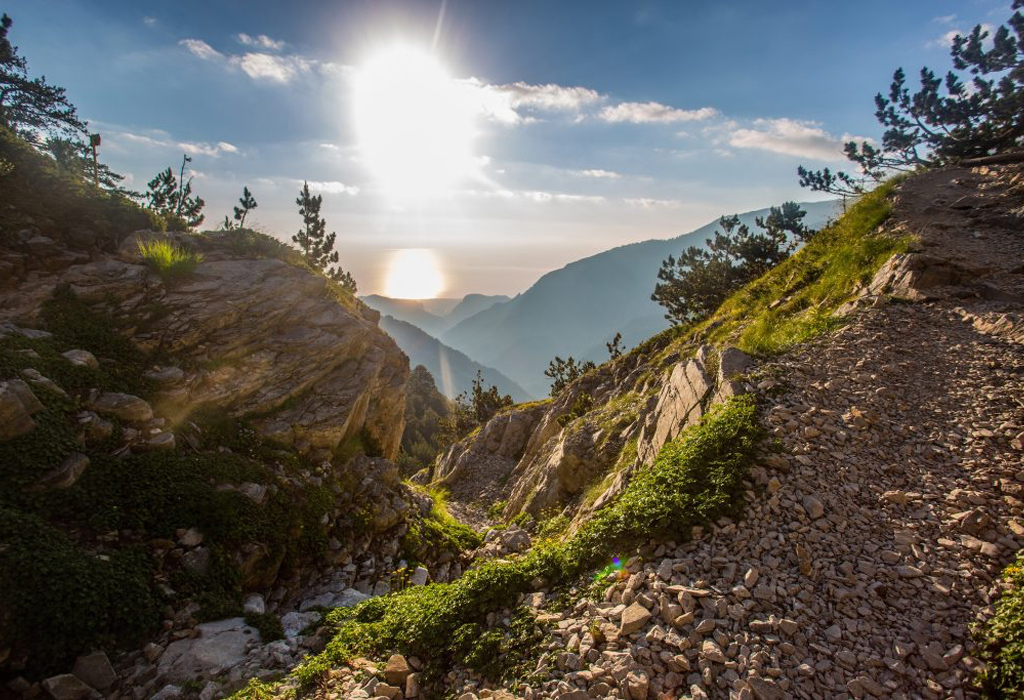 Can you climb to the home of the Greek Gods?
Mount Olympus is the highest mountain in Greece. It is located in the Olympus Range on the border between Thessaly and Macedonia, about 80 km (50 miles) southwest from Thessaloniki. Mount Olympus has 52 peaks, deep gorges, and exceptional biodiversity. The highest peak, Mytikas, meaning "nose", rises to 2,918 metres (9,573 ft). It is one of the highest peaks in Europe in terms of topographic prominence.
Olympus is notable in Greek mythology as the Home of the Greek Gods, on Mytikas peak. Due to its majesty, remoteness, and beauty, it was only natural for the Ancient Greeks to believe that it is also the home of their most important gods since very early times. Mount Olympus is also noted for its rich flora. It has been a National Park, the first in Greece, since 1938. It is also a World Biosphere Reserve.
Every year, thousands of people visit Olympus to admire its fauna and flora, tour its slopes, and reach its peaks. Organized mountain refuges and various mountaineering and climbing routes are available to visitors who want to explore it. The usual starting point for climbing Olympus is the town of Litochoro, on the eastern foothills of the mountain, 100 km from Thessaloniki.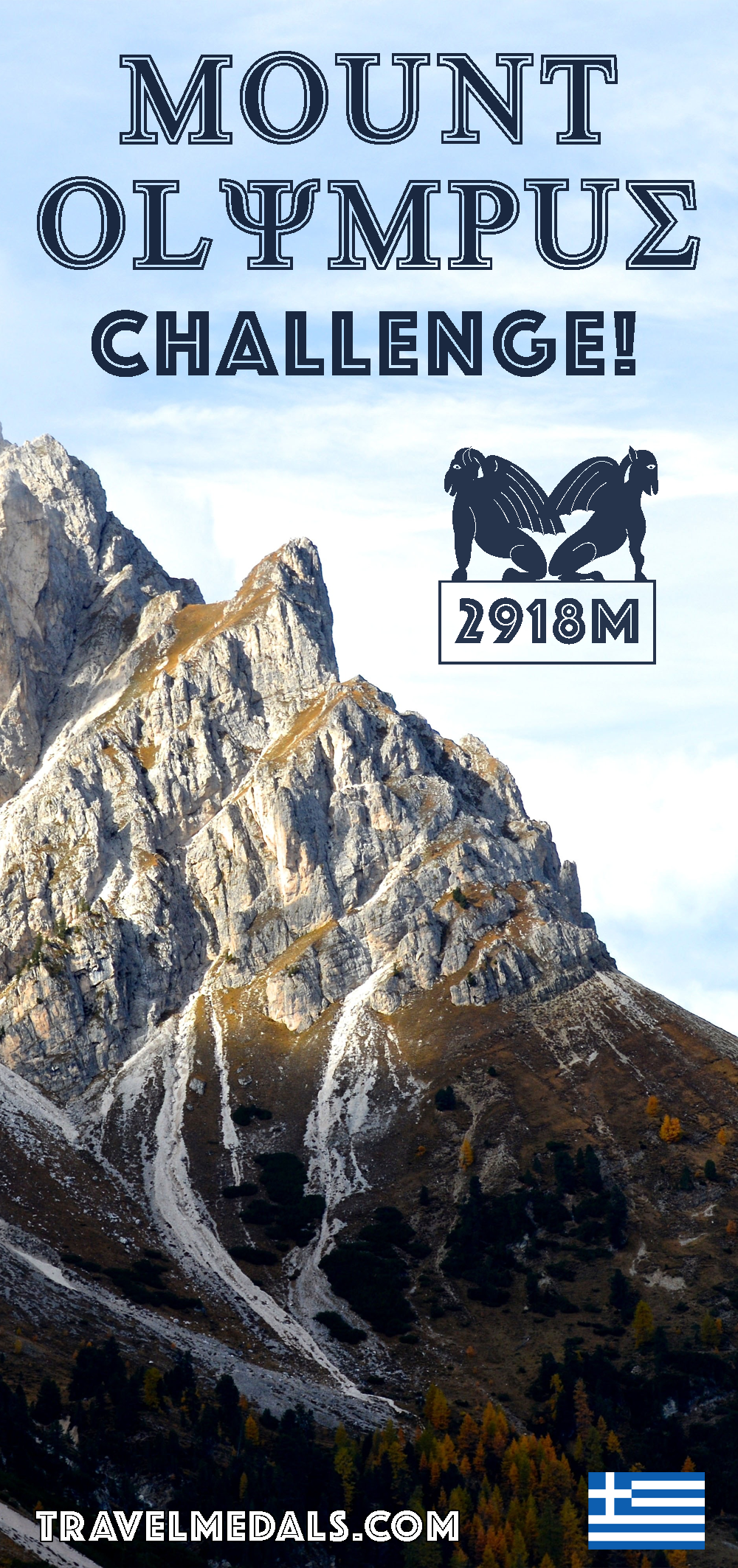 The Challenge
To complete this peak challenge you must:
Trek to the top of Mount Olympus

Take a photo at the Summit

Sign the book at the Summit
If you want you can also share your health stats for the days, your overall time in days, your experience and adventures along the way as well as tips and information to help others complete this travel challenge.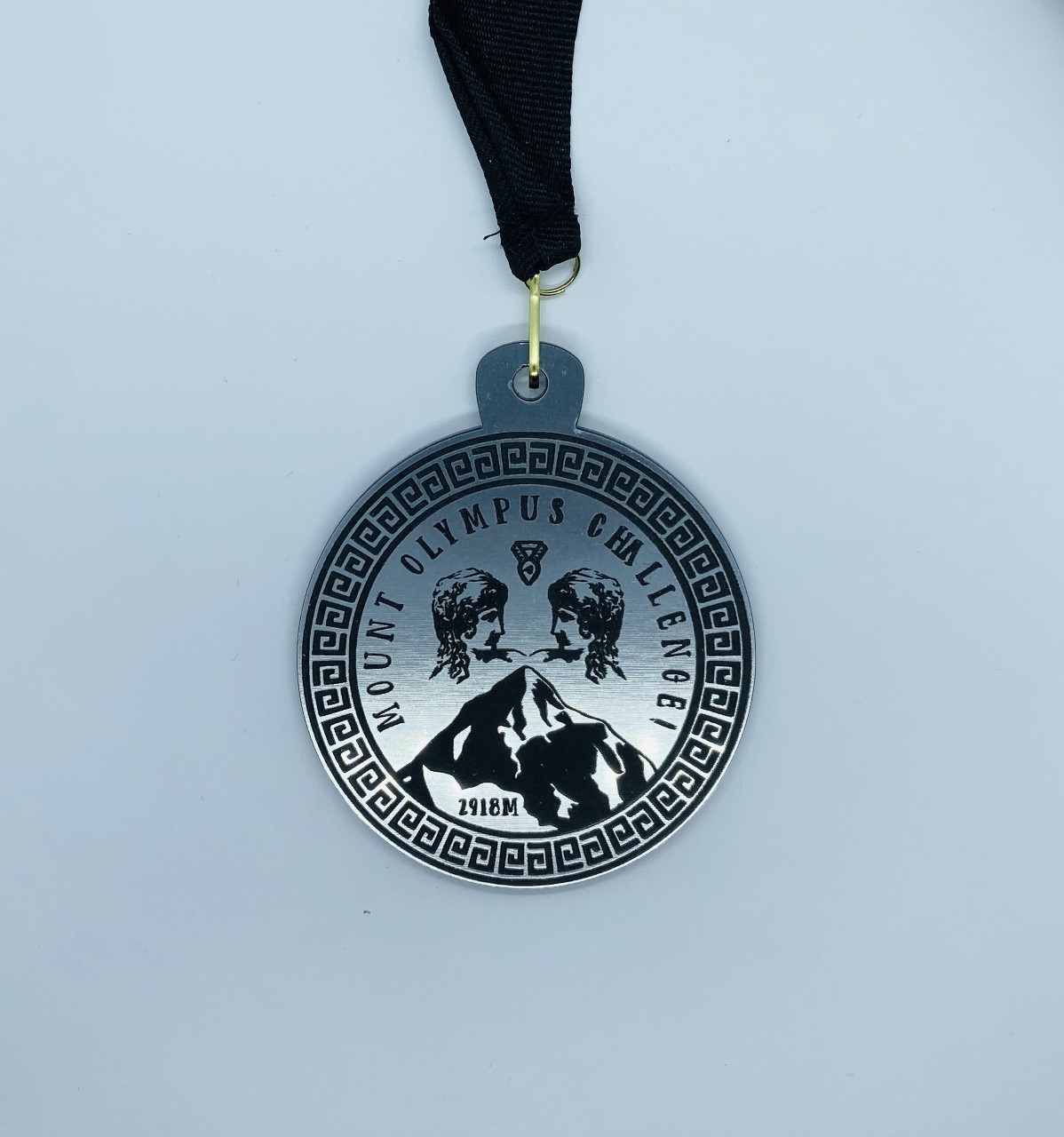 Click on the medal to be redirected to our store or click here.
Additional Information
For information on Mount Olympus start your research with Wikipedia and Trip Advisor. If you would like to research a guided tour then check out Much Better Adventures. They will guide you to the very summit at 2,918m of this peak, one of the world's most famous.
Explore the mountain's beautiful and varied landscapes on a 2-day guided trek. You'll ascend and descend the peak on different trails, ensuring a unique experience each day. Your hassle-free trip includes: guided trekking with a local, English-speaking mountain guide, 1 night of accommodation at a mountain refuge and transfers between Litochoro and trailhead.
CLIMBING MOUNT OLYMPUS // Greece Travel Vlog
For a short taste of what this climb is like watch this video by BrookeBossier. In her own words: "Hey guys! You should just know that this was the hardest thing I have ever done physically and mentally! It was also one of the most rewarding experiences I've ever had!! Thanks for stopping be to see me climb Mount Olympus! You guys are the best! Make sure and SUBSCRIBE if you're new and give this a THUMBS UP because I actually survived!"
Choose accommodation in Athens with Booking.com
Have any readers been to the top of Greece? Any tips for those yet to take on this Summit Challenge?